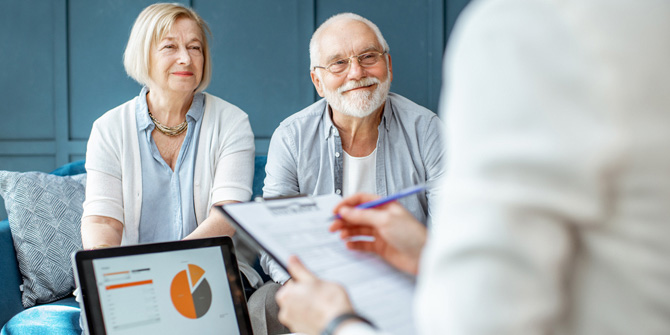 With the end of the year approaching fast, you've got a lot of things on your mind.  Between traveling, shopping and prepping for the holidays, don't forget to carve out time to review your investments. You don't want to miss out on a potential opportunity to better secure your retirement future or save a little on your taxes. Here are five investment moves to consider doing at the end of the year.
Talk to a trusted advisor 
As part of your year-end financial checklist, meet with your HR representative to review your retirement benefit allocations. Also talk with a financial professional to go over the investments in your retirement plans. A professional can help you identify needs, and uncover risks and opportunities within your financial plan.
Review your retirement assets 
When saving and investing for retirement, make sure you've contributed consistently and have an investment plan suitable for your retirement needs. Your investments should reflect the amount of risk you're willing to take for the return you are receiving. A financial professional can help you identify needs and uncover risks and opportunities within your financial plan. Here's how to choose a financial professional.
Maximize 401(k) contributions
If your finances allow, make extra contributions to your 401(k) plan. The maximum contribution limits often change annually and are different based on age. Visit the IRS' website for annual contribution guidelines. Consider increasing your contribution percentage every year, too. Adding a boost to your contributions may reduce your taxable income and bolster your retirement savings.
Reduce taxes on investment accounts 
Conduct a portfolio checkup. If you've sold stocks or mutual fund shares for a gain during the year, consider offsetting those gains by selling underperforming stocks or mutual funds at a loss. There are many things to take in to account before doing this. Speak to your tax advisor and financial professional before making any final decisions.
Review beneficiary designations
Time has a way of changing circumstances, which means you may need to update your beneficiaries. Start by taking a look at who you've designated as beneficiaries on your retirement accounts. Then move on to outside investments like individual retirement accounts. 
Don't lose sight of your finances when the end of the year rolls around. Be proactive about managing your investments and your financial plan. Make it a gift to yourself.
The advice provided is for informational purposes only. Contact a financial advisor for additional guidance.