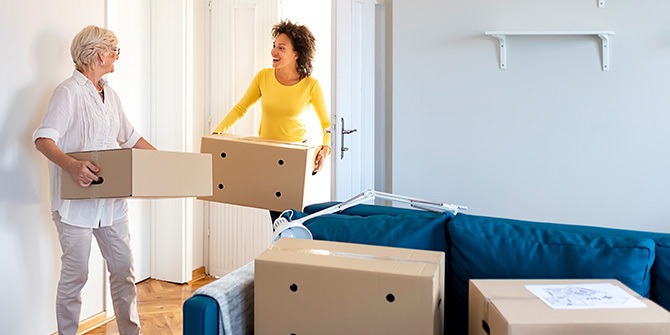 Dwindling retirement incomes and longer lifespans are sending some seniors to live in their adult children's homes. Moving in Mom or Dad may feel like the right thing to do, but adding another adult into the household means you both have to prepare for how this move will impact your lives — and your finances. You can start to set both your minds at ease by figuring out what's ahead, and planning and budgeting accordingly.
Making space and paying for it
Depending on space available in your home, you may need to reconfigure an existing area to accommodate your parent, or even add a bathroom, bedroom or in-law suite. Renovating a bathroom to include an accessible shower or tub, adding a chairlift or providing other safety features may be necessary. Price out the cost of remodeling. If cash isn't immediately available, consider a home equity line of credit (HELOC) to cover this expense.
Budgeting for everyday expenses
Discuss expectations upfront and decide how much each of you can and will contribute to living expenses. Anticipate higher expenses as the cost of a parent living with you (e.g., buying more food and increased utility bills). Is your parent bringing a pet? Don't forget to factor the costs of pet care into the new budget. If you're going to chauffeur Dad or Mom to the doctor or around town regularly, you'll need to include more gas money in your budget to cover extra trips.
Will you need in-home professional medical help or have to pay for your parent's co-pays, prescriptions and/or insurance premiums. Jot down a list of monthly, quarterly and annual expenses, then create a newly merged household budget that accounts for the cost of a parent living with you.
Where will the money come from?
If your parents don't have much cash to contribute to household expenses, have them consider selling assets they're not using, like real estate or an automobile. Proceeds can be placed into a dedicated savings or checking account to assist in covering increased budget costs.
Most parents don't want to feel like a financial burden to their adult children. Your parents may agree to do minor home repairs or take care of your children after school if they don't have cash or other assets to contribute toward living expenses. Place the money you're saving on child care or home repairs in an emergency fund, or use it to cover your increased monthly expenses.
Keep in mind by moving your parents into your home it may reduce the amount of government aid they can receive. However, you may also become eligible for tax breaks or government monies.
Combining households with an older parent can be a time of both emotional perks and emotional challenges, all of which are further complicated by financial concerns. Be prepared. Call or visit your local branch for no-cost financial counseling so your transition to a combined household can go smoothly.
The advice provided is for informational purposes only. Contact a financial advisor for additional guidance.
HELOCs are subject to approval, are available for properties located in NC, SC, GA or VA, and are not available for manufactured homes. Members must reside in NC or bordering states to be eligible.