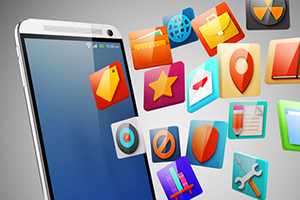 Think of something you want to do and there's likely an app for that. But how do you know which app is safe? These guidelines can help you figure it out.
Download from official stores
To ensure you're getting the safest app possible, stick with downloading from your device's app store. Developers must meet rigorous standards for their app to be approved for these stores. If you decide to download directly from a developer's website, make sure you read all of the legal and privacy information first. And if you're downloading and not using Wi-Fi, data fees may apply. So, check with your service provider.
Read reviews
While there are questionable apps, there are many more you can trust. Start by checking your app store for apps with good reviews. Check out the app's rating, number of downloads and user comments in the app store. Also, a quick online search could help you find other user reviews to guide you. During your online search, check third-party reviews to see if the app uses solid security standards such as strong authentication options, data encryption on your device and encryption while data is being transmitted, as well as good security testing practices.
What do you know about the developer?
See what you can find out about the app developer. The app itself may include information such as a website, email and phone number for support. You may need to visit the developer's website for full information about the company. If the developer doesn't provide its contact information to the app store or on a linked website, the app may be less than trustworthy, and your data could be at risk.
Check your permissions
App security is important. If you use a personal finance app on your mobile device, why would it need access to your personal contacts, text messages or microphone? There could be a legitimate reason — or the developer didn't carefully consider what specific information the app needs to operate.
If it's the latter, the developer may not have taken measures to secure your personal information. View the permissions details and decide if the app actually needs access to the device features it's asking for.
Mobile apps are plentiful, so it's going to take a little extra investigation to find one you trust and to set it up to keep your information safe. These guidelines can help point you in the right direction.