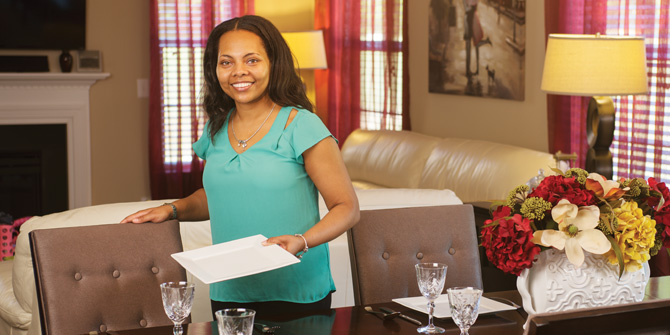 Hosting holiday gatherings for family and friends can be stressful and expensive. Between making sure the decorations and place settings are just right, and having the perfect menu to create meaningful memories, it can be easy to spend and stress a little more than intended for your holiday gathering. Whether you've been the primary host for years or this is your first time, here are some stress-less secrets to save time and money on your holiday gathering.
Create a game plan 
You can never start planning too soon to make sure the gathering goes as smoothly as possible. Whether you're planning to spend a little or a lot on your holiday gathering, it's best to think about how much you're willing to devote to each category. That figure could mean the difference between a holiday goose and a traditional turkey spread. So decide on the menu and inventory your pantry. Then create a shopping list in advance to cover what's left to help ensure all needed ingredients are accounted for. Plus, you'll likely avoid return trips to the grocery store to gather forgotten items. Your list always helps to keep impulse spending under control.
Don't forget Compass, can help you keep your spending in check. LGFCU's powerful money manager is a ready reminder of how much you've spent while you're checking things off your shopping list. If you're using a smartphone or tablet, data charges could apply. Please check with your service provider.
With the shopping out of the way, concentrate on making a list of the time needed to start each dish — including prep time — and how long each needs to cook. Be sure to keep all recipes within easy reach so you won't have to stop prepping the soufflé to look up next steps.
In addition to managing kitchen activities, consider the downtime your guests will have. Before the food hits the table and after the meal is over plan for ways to keep your guests entertained. Include low-cost options to keep them engaged as a group such as board games or watching a holiday movie.
Buy what you can 
You don't have to break your back making everything from scratch. Don't feel guilty about buying something from the store to save yourself some time and possibly money. Spending quality time with your guests during the holidays is what matters the most! Decide which dishes you want to spend the time making from scratch and then fill the rest with store bought or semi-homemade items. During the holidays, stores typically have sales on popular food items. So opting to purchase items instead of making them could not only save you time, but money too.
Ask guests to pitch in 
Not asking for help can lead to a higher level of stress and impact the quality time spent with guests. Don't be afraid to delegate tasks to friends and loved ones. Ask the in-town guests to bring a side dish or dessert. For those traveling from out of town, put them in charge of bringing items that travel well like wine or soft drinks.
The extra help will lessen the impact to your budget, but still create the holiday memories you'll treasure. Cleanup help is important, too. Recruit for that as well so you can enjoy the after-the-feast downtime with everyone else.
Use these strategies to help you save time in the kitchen, and possibly, put away a few more dollars you can use to cover parting gifts.
The advice provided is for informational purposes only.