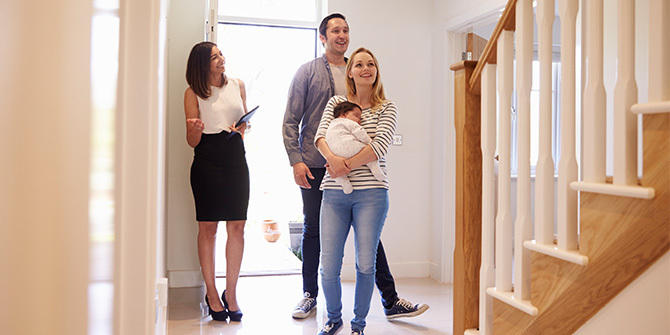 As exciting as it may be to become a homeowner for the first time, it can be difficult to know where to begin. Before you go to a single showing, get ready for house hunting with these first steps.
Review your finances
As a first-time homebuyer, consider talking to a financial counselor before starting your search for a mortgage loan. A professional can help you evaluate your financial situation, point out things that need to be worked on (e.g., too much debt or poor credit) and learn what costs to factor in when buying a home.
Now is the time to reduce or eliminate unnecessary spending. You may find you can afford the down payment and monthly payments. But when you add closing costs and potential home repairs, however, and estimated payments could stretch your home-buying budget. Credit Union members who need help getting their finances organized before buying a home can contact their local branch to set up an appointment for complimentary financial counseling.
How much do you qualify for?
Ideally, you want to get pre-approved for a mortgage to help you manage your purchase expectations. For example, your dream home may fall in the $300,000 range, but the amount of debt you have in comparison to your gross monthly income — your debt-to-income ratio — might tell lenders you can only safely borrow $125,000. Take away the surprise and calculate how much home you can afford before you start looking at homes. This way you'll know if you need to save more or look for a less expensive home.
How much can you actually afford?
Even if you're pre-approved for your $300,000 dream home, it doesn't mean you have to spend that much. Doing so may risk your financial security. Think about whether you want this to be your "first" or "forever" home. You might be willing to spend less on a home today and save for a home later that has more of the things you want. 
Find the money to buy your home
Talk to your loan officer about securing first-time homebuyer program incentives to make your purchase more affordable.
First-time homebuyers mortgage. Consider searching for the mortgage loan that best meets your financial situation. First-time buyers or those who meet certain U.S. Department of Housing and Urban Development standards may qualify for LGFCU'S First-Time Homebuyers Loan. This 5-year Adjustable Rate Mortgage (ARM) is available for first-time buyers and does not require the industry-standard 20% down payment.
It's important to keep in mind that many ARM loans start with rates lower than fixed-rate loans. After a period of time, your ARM loan interest rate may change, as will the amount of your monthly payment. If you're approved for an ARM, be sure to keep a little extra in your emergency fund in case your payment increases. Note that any property you purchase or refinance with an LGFCU ARM loan must be located in North Carolina, South Carolina, Virginia, Georgia or Tennessee.
U.S. government-sponsored mortgages are available from the Federal Housing Administration (FHA) and require a low down payment. These kinds of loans can have fixed- or adjustable rates. 
When searching for a loan, it's important to know that some lenders require private mortgage insurance (PMI), if you do not have the industry-standard 20% down payment on a mortgage loan. Without the full down payment amount, you are seen as a riskier investment. Your Credit Union does not charge PMI. This insurance is an extra fee built into your mortgage to protect the lender in case you default on your loan. PMI can be eliminated when you pay down the loan principal. If PMI is required, it needs to be built into your budget.
Homebuyer grants. LGFCU has partnered with the Federal Home Loan Bank of Atlanta (FHLBA) to offer assistance with down payment, closing costs and principal reduction for eligible first-time buyers.
Mortgage tax credits. Some first-time buyers may be eligible for Mortgage Credit Certificates. The money is given as an annual federal tax credit for qualified buyers.
Preparing to buy a home is a key moment in your life. Before committing to a loan, use a mortgage comparison calculator to help you decide which offer is right for you.
The advice provided is for informational purposes only. Contact your mortgage lender for additional loan guidance.