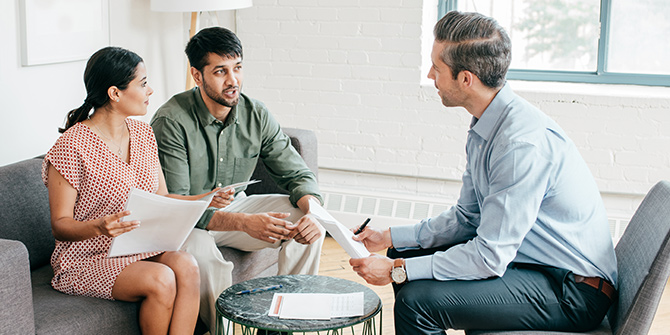 Nearly every journey to homeownership starts with a conversation filled with confusing financial words and concepts. Understanding these basics may ultimately lead you to the best mortgage rate and term for your needs.
Know your credit score before you go
Your credit score will help determine your loan rate. Therefore, knowing what's on your credit report is the first step toward getting the right deal. Take note of things like delinquencies, charged-off accounts or collections. You'll want to resolve any negative issues prior to applying for the loan to improve your score as much as possible. Visit annualcreditreport.com to receive a free copy of your credit report.
Mortgage types: ARM vs. Fixed
What kind of mortgage is right for you? There are different home loan options, but typically you'll be asked to choose either an Adjustable Rate Mortgage (ARM) or Fixed-Rate Mortgage, both of which are available from your Credit Union. With a five-year ARM, rates can only change every five years by no more than 2%, capped at 6% over the lifetime of the loan.
As the name implies, the rate is fixed on LGFCU's Fixed-Rate Mortgage for the term of the loan. The ARM offers an initial fixed rate, can typically have a lower monthly payment, or possibly lower adjustable rates. Neither loan requires private mortgage insurance (PMI) or points.
Important mortgage questions to ask
Before you sit down to talk terms, be prepared to ask, and get answers to, three important questions:
What will my full payment be?
When estimating your monthly mortgage payment, include property taxes and homeowners insurance. Save that money in an escrow account. (We'll explain escrow later.) You may also need to consider Homeowners Association (HOA) dues. LGFCU does not require escrow for HOA dues; however, members are still responsible for paying dues out of pocket.
Many people don't realize that in most cases, amortization schedules or payment calculators only include the principal and interest portions of your payment; they do not take into account property taxes, homeowners insurance and HOA dues. A mortgage calculator can help you get an estimate of your actual payments.
Next, you'll want to calculate your debt-to-income ratio. Divide the total amount of your current outstanding monthly debt payments by your gross monthly income. Ideally that debt number should be 40% or less of your gross monthly income.
For example, if your minimum monthly debt payments are $1,500 and you earn $4,000 a month, your debt-to-income ratio is 37.5% (1,500/4,000=37.5%), lower than the standard 40%. The debts considered in this calculation include items from your credit report such as minimum monthly credit card payments, student loans, car loans, personal loans and mortgages.
How much are closing costs?
Closing costs depend on the amount of the home and the amount of down payment. By law, those details are required to be included in your loan estimate, which you should receive within three days after you submit your loan application.  
Are there first-time homebuyer options?
If you have never owned or have not owned a home in the past three years, ask your loan officer for information about LGFCU's First-Time Homebuyers Loan and any other help you may be eligible for, including Mortgage Credit Certificates and the Federal Home Loan Bank of Atlanta down payment assistance program.
Review these common mortgage phrases
Familiarize yourself with these phrases so you're speaking the same language as your lender.
Common mortgage phrases
Term

Definition

Amortization schedule

A table showing the amounts of principal and interest due at regular intervals and the unpaid balance of the loan after each payment is made.

Closing costs 

Expenses associated with the sale of real estate, such as loan fees, title fees, appraisal fees, etc.

Points 

Points are fees paid to the lender in exchange for a lower interest rate.

Debt-to-income ratio

A calculation that determines the mortgage payment you may be able to afford. Calculate by dividing your monthly debt load by your gross monthly income. Your debt number should be 40% or less of your gross income.

Disposable income 

The amount of money you have left after monthly expenses are subtracted. Calculate by subtracting your monthly expenses (e.g., minimum credit card payments, vehicle loan payments) from your net income.

Down payment 

Usually a lump-sum cash payment made at the time of purchase of an expensive item such as a home.

Escrow payment 

A portion of your monthly mortgage payment held by the lender to pay for expenses such as taxes, hazard insurance, and other bills associated with homebuying.

Homeowners association dues (HOA)

An amount of money that must be paid monthly by homeowners to an organization that assists with maintaining and improving their home and other properties in the same group.

Homeowners insurance policy

An insurance policy available to homeowners. The policy covers the dwelling and its contents in the case of fire or wind damage, theft, liability for property damage and personal liability.

Loan estimate

The loan estimate tells you important details about the loan you have applied for. The form will include information such as estimated interest rate, monthly payment, and total closing costs for the loan, among other details.

Private mortgage insurance (PMI)

A form of insurance paid to the lender to offset losses in case of default. This is usually charged if a mortgage loan is greater than 80% loan-to-value. LGFCU does not require PMI or points for ARM or Fixed-Rate Mortgages.

Realtor

 

A real estate broker or an associate holding active membership in a local real estate board affiliated with the National Association of Realtors. Not all real estate agents hold this title.
Buying a home is a big decision with far-reaching financial implications. Navigating through the many terms used in standard discussions can heap added stress onto the process. When you're ready to choose a mortgage, keep the tips given here close at hand.
The advice provided is for informational purposes only. Contact a financial advisor for additional guidance.
Mortgage loans are subject to approval. Greater than 90% loan-to-value limited to maximum financing of $500,000. Mortgages are available for properties located in NC, SC, GA, TN or VA. Members must reside in NC or bordering states to be eligible.