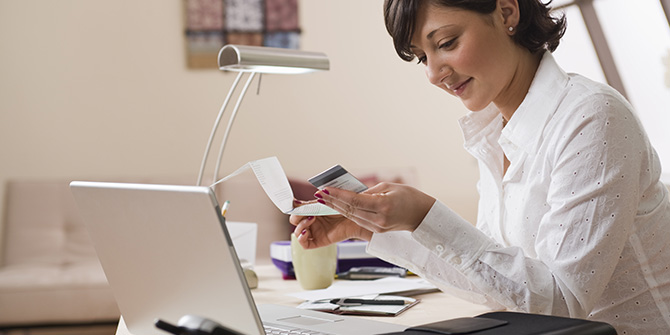 According to Federal Reserve Bank, as of June 2015, the average American carries a balance of $15,706 on credit cards. You don't have to be among the millions of Americans saddled with high levels of credit card debt. With just a few lifestyle changes you can reduce the amount you owe.
Set a realistic deadline to pay off debt
Give yourself a deadline so you're focused on your end goal. For example, maybe your goal is to pay off at least half of your debt in one year and the remaining balance by the end of the next. Think about what it will take to reach that goal. Then create checkpoints and milestones so you can stay motivated to move on to the next level.
Be clear on how you will use credit
Under what circumstances do you want to use your credit cards: every day purchases, emergencies, etc. Once you've set your intentions, create digital reminders for yourself or post sticky notes on your fridge. This way you're using your card for a specific purpose. Also, your payoff plan will always be top of mind.
Get serious about a spending plan
Get started on a debt-free future by planning for and tracking your spending today. Compass, LGFCU's online money management tool, allows you to do just that. Compass gathers information from all your accounts allowing you to view your transactions in one place and create a budget you can live with. Using these details you can get a better idea of where your money goes (and maybe where it shouldn't).
Give your cards a rest
Put the cards away and try an all-cash diet for 30 days. Refer back to your budget to see how much you spend in a given month. Based on that number give yourself a fixed amount of cash to use for purchases every week. An all-cash diet can help you control impulse spending. Just be sure to track those cash purchases, as it's easy to lose sight.  Take any savings realized and apply it toward an outstanding balance.
Other ways to manage and reduce your debt
Another way to reduce your debt is by consolidating your outstanding balances at a lower interest rate. Not only will you pay less total interest, you may cut the time it takes to pay off the debt. If you have equity built up in your home you may want to consider applying for a Home Equity Line of Credit to pay off creditors.
Alternately, a credit card balance transfer from a high-interest rate card to LGFCU's low rate Visa® Credit Card may be a reasonable option. Remember though, do not to fall back into old habits once the high-interest debt has been transferred. Focus on your pay-off plan to help keep you on the road to being debt-free.
Reflect on a job well done
Take time to review your credit card debt load occasionally and see what progress you've made. If you've made good progress, reward yourself with a little fun.  Maybe combine an afternoon of seeing the local sites for free with an online deal for half-price dinner at your favorite restaurant. Continue to stay focused on the small, but important lifestyles changes you've made and keep it up.
For more ways to cut your debt make an appointment to meet with a Financial Counselor by calling or visiting your local branch.