Need it. Buy it. Debit with LGFCU Debit Cards!
Feel safe and stay on budget by using your LGFCU Visa® Debit Card.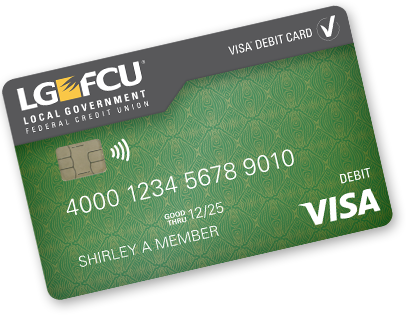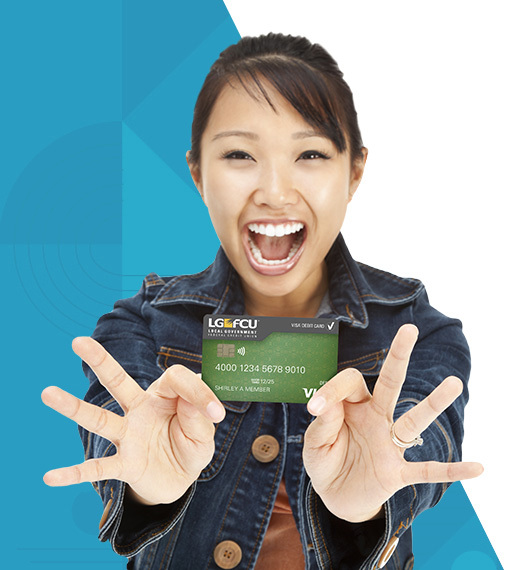 Love it? Need it? Debit!
Whether you're shopping for fun or out of necessity, the payment choice is easy —  your LGFCU Visa Debit Card.
Budget-friendly
Spending only what you have in your LGFCU Checking Account helps you to not overspend. You won't have to pay interest or get a bill later. 
Convenient
Shop comfortably right from home for everyday things like streaming services, curbside grocery pickup or takeout food delivery. Online holiday shopping is easier too when you use your debit card.
Add it. Tap it. Debit!
With the LGFCU Visa Debit Card, you can choose your way to pay. 
Contactless payments
Add your debit card to your smartphone wallet to pay securely at merchants who accept mobile payments or while shopping online.
In-store? No problem. The contactless "tap to pay" feature on your debit card allows for easy payments in seconds. Just look for the contactless symbol
on your card.
Widely accepted
Your debit card is accepted worldwide at all Visa participating merchants. With the CashPoints® ATM and Visa PLUS Networks, you have access to thousands of ATMs 24/7.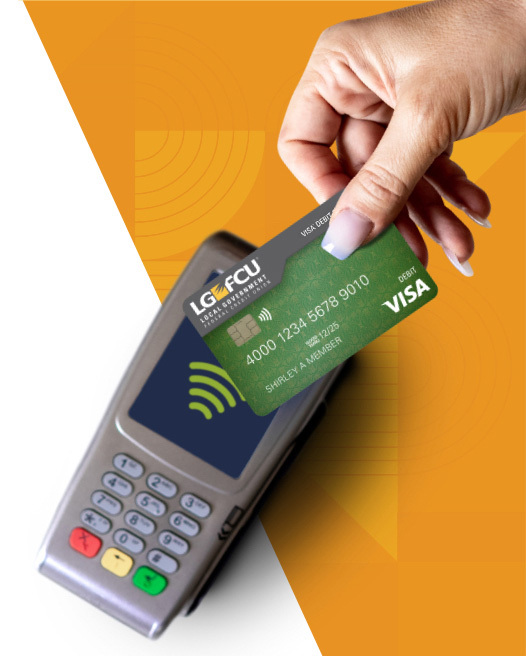 Did you know?
Many local merchants and vendors prefer customers use debit cards because it helps them save on processing fees.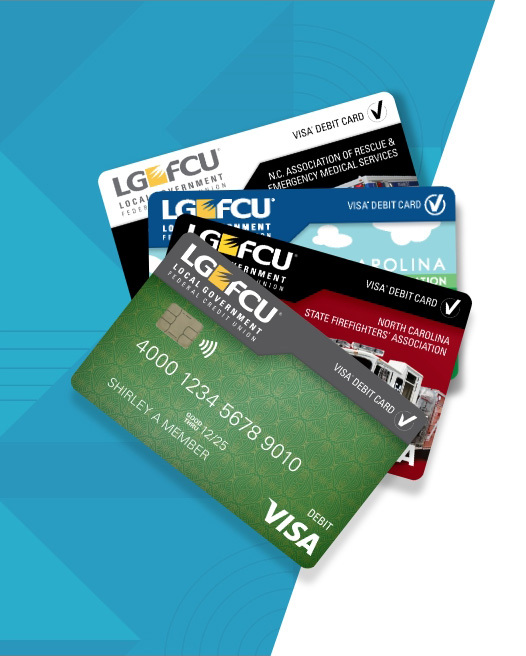 Secure it. Check it. Debit!
With support from your Credit Union and Visa's global payment network, all your LGFCU Visa Debit Card transactions are fast and worry-free.
Secure technology
An EMV chip keeps your card number encrypted throughout transactions and allows for contactless tap to pay at checkout. 
For more protection while shopping online, learn more about Visa Secure.
Your card comes with no liability for any unauthorized (fraudulent) signature-based purchase transactions, including those on the internet. If you believe your card and PIN are lost or stolen, contact us right away at 888.732.8562.
Stay informed
Sign up for LGFCU's irregular card activity alerts for worry-free debit card use. Message and data rates may apply. View your transaction history anytime on Member Connect.
How do I activate my
LGFCU Visa Debit Card?
Watch our "how-to" video for easy steps on activation.
Activating your LGFCU Visa Debit Card? Call us at 888.292.9241 to activate your card. You'll be prompted by an automated voice response system to enter your information for activation. Follow the prompts to activate your card.
You can also visit any CashPoints ATM and complete a transaction that requires a PIN entry. If you need help finding the nearest CashPoints ATM, visit lgfcu.org/locations.
Once at the ATM, simply insert your new LGFCU Visa Debit Card and request a transaction that requires a PIN entry. Then follow the on-screen prompts to activate your card. After your card is activated, you can choose your way to pay. Use it online at your favorite merchants or in person. Tap to pay for contactless payment. Link it to your mobile wallet or insert it anywhere Visa is accepted. If you have any questions, we're always here to help. Call us at 888.732.8562.