Whether it's staying in touch with extended family and friends, keeping up with community news, or enjoying the wacky world of videos, you go social with a purpose. You expect the time you spend on Facebook, YouTube or Twitter to be valuable.
We want to be a part of bringing value to your days (and nights), too.
You're already there. So get social with us, right where you are!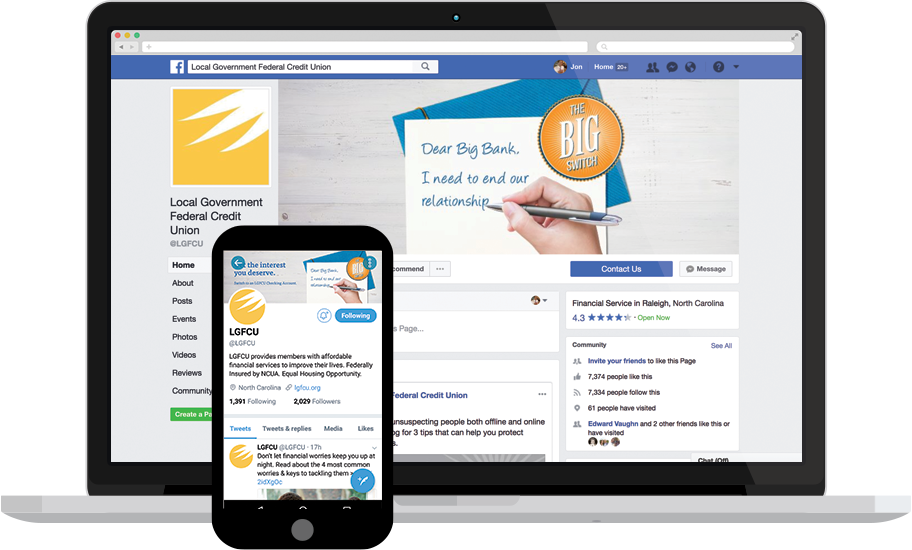 More for members
When you choose to like, follow or subscribe to LGFCU social media, you're inviting us into your world. We appreciate that!
From contests or career opportunities, to canned food drives or community clean-up events, enjoy all of the member advantages being connected to us on social media bring you*.
Here's just a little more of what you'll get
Promotions and events
Giveaways/contests
Product promotions
News about new services
Shred events
Announcements
Scholarship winners
Innovation grant awards
Career opportunities
Monthly insights from your CEO Maurice Smith
Community activities
Donation and relief efforts during emergencies
Staff volunteer activities
Member recognition
Improving member lives
Financial tips
Legislative impacts on your credit union
An occasional peek behind the scenes at LGFCU
* For mobile use, data fees may apply. Check with your service provider.