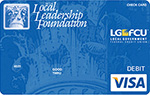 LGFCU has a Visa® debit card exclusively for municipal government leaders that gives back every time a purchase is made!
Using the NCLM Local Leadership Foundation Visa Check Card generates funds to make your local government stronger. Every time you make a purchase, 50 percent of LGFCU's share of the net merchant's fee goes to the North Carolina League of Municipalities (NCLM) Local Leadership Foundation, The NCLM promotes excellence in municipal government through training, workshops, research and more.
Benefits
Provides free access to more than 1,100 CashPoints® ATMs across North Carolina.
Can be used anywhere the Visa logo is displayed worldwide.
Easy to give back to a cause you care about.
The checking account has a low monthly maintenance fee of just $1.00.
Shows your pride in North Carolina every time you open your wallet!
Next Steps
Strengthen North Carolina municipal leadership. Get your card now!