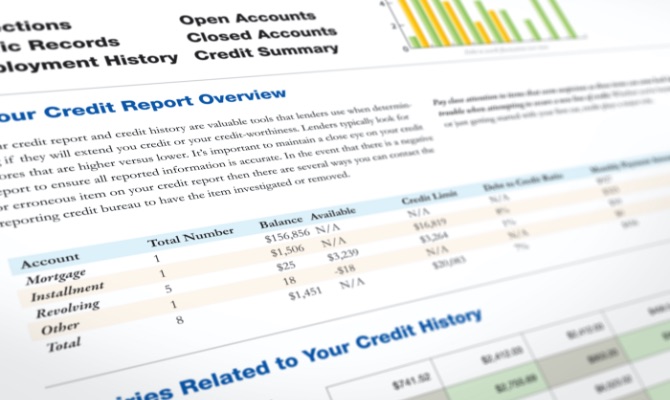 Your credit history can have a major impact on your life. So why are so many of us in the dark when it comes to what our credit report says about our financial stability? Here's what you need to know.
Your credit history in one place
If you've ever applied for a credit card or a loan, you have a credit report. It's essentially a summary of your credit history. A credit report shows whether you make payments on time, the amount of outstanding credit you have and how much of the available credit you're currently using. Your credit report indicates if you have debts with a collection agency or if you've ever filed bankruptcy, among other details. There are three primary credit reporting agencies: Equifax, Experian and TransUnion. It's the data reported to these agencies by lenders and debt collectors that determines your credit score.
You can get a free copy of your credit report online, once a week from each of the three major credit bureaus. Visit annualcreditreport.com to view and download your credit report. Once on the annualcreditreport.com site, you'll need to complete the request form, select your reports, and verify your information for security.
The change from the standard annual availability of credit reports to weekly comes at a time when COVID-19 has made it hard for many families to keep up with paying bills or to get approved for new loans. So, it's helpful to monitor your credit reports more often to ensure your accounts reflect payment arrangements from creditors and to confirm there is no fraudulent activity.
You also can get a free copy of your credit report if you have been turned down for a loan, if you're a victim of identity theft, or if you're unemployed and job hunting.
In addition, you can contact each agency directly by phone to get a copy of your report:
What is a credit score?
A credit score is like a report card. It assigns a grade to your credit history for the past seven to 10 years. It tells potential creditors how financially responsible you are when it comes to using a line of credit and repaying debt.
A score of 700 or higher is generally considered good credit management; a score between 620 and 660 is considered OK, while a score under 500 is considered poor. You may get your credit score from a credit card or other loan statement, a nonprofit counselor, or for a fee from a credit reporting agency. If you have a loan with the Credit Union, you can view your FICO score at no cost when you log into Member Connect.
Why your credit score matters
Your creditworthiness could mean the difference between buying your dream house or continuing to rent. It affects whether you can buy a car or get a credit card, and it impacts the interest rate you'll pay on a loan. It determines the amount of your security deposit when leasing an apartment. Potential employers may even take your credit score into account when deciding whether to offer you a job.
Poorly managed credit is financially unhealthy. But avoiding credit altogether could also be a problem. A blank credit history can be viewed as unfavorable since the lender has no previous payment history to consider when reviewing your loan request. Although you want to avoid debt, it's good to establish credit and carry a small amount of debt in order to demonstrate your responsibility.
How to review your credit report
A credit report starts by listing identifying information like your name, address, Social Security number and employment history. This often includes older information, like a woman's maiden name or a previous address. You may notice several variations of your name, even misspellings. This doesn't really matter, as long as it's your information and not someone else's.
Next is the Credit Summary. This tallies the total number of credit accounts reported, account balances, current delinquent accounts and the number of inquiries made against your credit in the past two years.
The Account History section follows. This is the main body of the report. Information about every credit account you've had is detailed, including account number, type of account, whether it's individual or joint, the current balance, credit limit and the high balance (the most ever owed on the account). In just 60 seconds you can learn how to check your credit report with this short video.
What if you find a mistake?
If you find items that are inaccurate or out-of-date, or accounts that aren't yours, it's important to get that information corrected right away. Watch for payments wrongly recorded as late or current accounts listed as past due. Pay attention to credit limit information, loan amounts and account balances to verify they are accurate.
You can dispute information on your credit report online, by phone or by mail. It may be quicker and more convenient to make a claim online or by phone, but keep in mind you'll still have to mail in documentation or proof.
Reporting errors by mail takes more time, but you're also generating a paper trail. Your letter should identify the incorrect information and explain why it should be removed. Include any supporting documentation with your letter and send it via certified mail, with return receipt requested. The credit reporting agencies are required to investigate your claim and respond within 30 days.
It all comes back to the credit report
Your credit score is only as good as the information it's based upon. That's why it's so important to be familiar with what it says. Contact your local branch to speak with a financial counselor who can help you understand your credit report.
The advice provided is for informational purposes only. Contact a financial advisor for additional guidance.