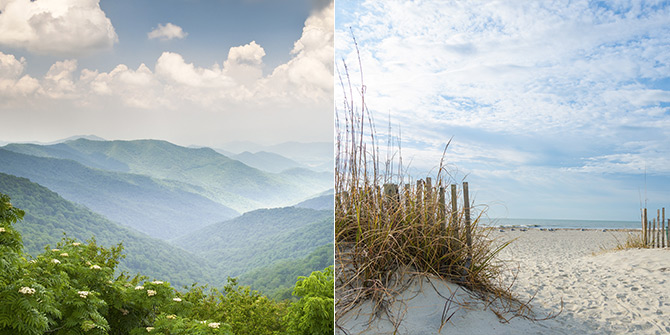 A North Carolina vacation has plenty to offer, including scenic tours, cultural attractions, outdoor adventures and regional festivals. Not only can in-state travel be more cost-efficient, supporting locally-owned businesses keeps much more money in the local economy. These tips will help cost-conscious travelers plan a fun staycation.
Decide how much to spend
Start with a budget before deciding what you'd like to do and where. Then search for accommodations and activities within your budget. VisitNC.com has trip ideas for every type of traveler, whether you prefer mountains, beaches or cities. Themes on the site revolve around music, arts, history, outdoor adventure and foodie tours.
Where to stay?
Camping is an inexpensive option if you have the gear or can borrow some. You can also combine camping with a night or two in a real bed in a hotel, Bed and Breakfast, or private rental. Today's sharing culture offers many choices and keeps prices competitive. Hop online to find home swaps and private rentals of all kinds, from a room in someone's house to whole homes or apartments.
Decide when to go
Mid-week accommodations are sometimes cheaper than weekend stays. You're also more likely to find better deals during your chosen locale's off season. Not only can you save money, you can avoid tourist crowds.
Eat well and inexpensively
Try having a nice lunch when prices are less than at dinnertime. Look for deals on small plates, which are a little more than an appetizer, but smaller than a full meal. Or harvest a meal from among the many locally-produced foods and drinks found at local farmer's market and artisanal shops. Rent accommodations with cooking facilities and prepare fresh local food yourself.
If you're adventurous, try social dining. Consider apps that connect those who like to cook with those who like to attend casual dinner parties. For less than the price of a restaurant meal, you can enjoy home-cooked food and meet new friends while traveling. Or if you're adventurous and extremely frugal, some apps let you give or take leftovers for free. As always exercise caution when entering your credit or or debit card information into an app and with making offline arrangements with strangers. Also, note that data charges may apply with app use.
Remember, fun doesn't have to bust the bank. Many resorts and hotels offer travel deals and packages that include free nights after a minimum number of nights stayed has been met or discounted passes to local attractions, restaurants, or spa and recreation activities. Look to LGFCU for specially priced theme park tickets for members.
And finally, rather than one long vacation each year, opt for a few short-stay breaks to explore North Carolina!
The advice provided is for informational purposes only.