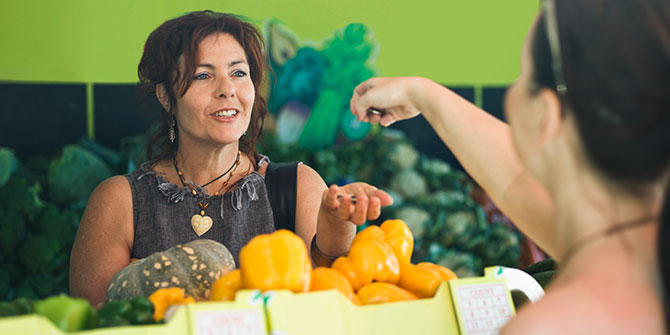 Nothing says spring like the opening of local farmers markets. It's no secret that North Carolina grows and produces a wide array of commodities, such as sweet potatoes, cucumbers and strawberries. Buying these items from local farmers supports the state's economy and can also boost your economic well-being. Follow these tips and save.
Find the market that meets your needs
If your area has more than one farmers market, visit each to scope out prices and quality. Even vendors within the same market have different pricing. Before you buy, walk around to see who has the best prices on the items you want. You might buy apples from one vendor and lettuce from another.
Buy in bulk
The more you buy, the more you save. Likewise, buy in-season produce, when surplus is high and deals are good. Berries, for example, are cheaper by the flat. Freeze them to enjoy fresh from frozen goodness for months. Shop with friends and split the goods and the cost.
Become a regular
Get to know the vendors you buy from and take an interest in their produce. Vendors often reward loyal customers with a baker's dozen and are more willing to give you a deal if you ask.
Ask for cosmetically-challenged produce
Vendors usually put the crooked carrots and misshapen squash to one side, yet cosmetic defects usually don't affect the taste. Ask for a deal on these and over-ripe produce.
Bring cash
Cash helps you stick to your budget. Be prepared to bargain. If you have only $1 left to buy those $1.50 carrots, the vendor may sell them to you anyway. All you have to do is ask.
Try before you buy
Vendors often let you sample the goods. It's a great way to avoid buying something you don't like, and a good way to introduce foods you might not otherwise try.
To get yourself started, try one of North Carolina's four regional farmers markets, owned by the state and operated by the Department of Agriculture & Consumer Services. These markets are located in Charlotte, Raleigh, Greensboro and Asheville. For markets closer to home, visit Farm Fresh to find a market near you.