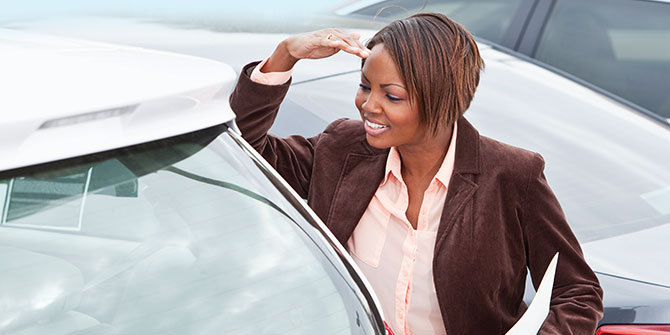 Ready for some new (to you) wheels? There are a lot of convincing reasons to buy a used car instead of a new one. For starters, you're likely to save thousands on a used auto compared to buying new. Also, your insurance costs on a used vehicle could be significantly lower. While these reasons and others add up to great savings, it's always best to be prepared before you make a big purchase. Here's what you must do when buying a used vehicle.
Know before you go
Determine the price you're willing to pay for a used car before you step foot on a dealer's lot. After you've reviewed your budget, you'll have a good idea of how much you can comfortably spend for a car payment every month. With that final number in mind, you'll be ready to search for your vehicle. LGFCU members have access to the National Automobile Dealers Association's (NADA) wholesale and retail values simply by logging in to Member Connect. When you're shopping for a used car on the site, you can compare multiple vehicles to find the best one for you. Many independent online sites, including the NADA, allow you to target your vehicle by make, model, mileage and more.
You'll want to negotiate the lowest possible price for your vehicle. If you're buying from a dealer, that means sitting down with someone who may have more experience with car sales than you do. But the process doesn't have to be intimidating. With your research in place before you visit the lot, you may have more bargaining power to get the best possible purchase price.
Get your financing in place
One of the keys to negotiating a car deal in your favor is to secure the best financing available. After all, even a 1 percent difference in your interest rate can be worth hundreds or even thousands of dollars saved over the life of the loan.
Don't assume the dealer will have the best rate. Sometimes, dealership rates are higher than rates offered by financial institutions. Become an empowered buyer who knows your financial plan and loan options before walking through the dealer's doors.
LGFCU offers low, used auto loan rates and has no hidden charges or fees. Once your financing is in place you can further refine your budget for how much you can spend on a used vehicle as well as how much you will spend. This way you're not surprised when that first payment is due. You can start your used car loan preapproval process by logging in to Member Connect.
Don't say too much
There's very little you can say to make a negotiation go better, but you might give away clues the seller can use to hold out for more money. If in doubt, don't say anything. It can be difficult, particularly when the silence is awkward and tense. But saying nothing is often the right thing to do.
Show your power
Members George and Angel L. have purchased used cars with the help of the Credit Union. In fact, it was LGFCU's low auto rates that prompted Angel to join.
"The credit union has been my institution of choice since 2003. Later, when George and I married, we wanted to continue to use LGFCU," Angel said.
George said when they were ready to buy a used car a few years ago, the Credit Union was their first choice. The couple used LGFCU's Auto Power financing service, which allowed them to skip the dealership wrangling over loan rates.
"I identified the vehicle I wanted, then told the Credit Union what I was looking at buying. I was preapproved for an auto loan," said George.
By the time the couple went to the dealership to purchase their vehicle, they had a Credit Union check in hand to cover their vehicle purchase price.
"LGFCU cut the hassle out of the buying process.," explained Angel. "We didn't have to deal with the finance office at a dealership. We knew we were getting a great interest rate."
Two final tasks
After you've got your financing in place, but before you drive away, you've got two important tasks to check off your list:
Get it inspected before you buy. If you're buying a used car, don't just take the seller's word the car is sound. If you're not well-versed in car care, bring a friend who is or pay a trusted mechanic to do a full inspection and damage check.
Run your own vehicle history report. Even if the seller offers you a vehicle history report, purchase your own. This way you can be sure you're seeing the complete history of the vehicle. It's worth paying the extra fee to know the car's history, including inspections, possible accidents and any previous damage. If using a mobile device to access your report, data fees may apply. Check with your service provider.
Hopefully, when you're ready to buy your next car, you'll use these tips to save money and get a vehicle that'll make you happy for years to come.
The advice provided is for informational purposes only.