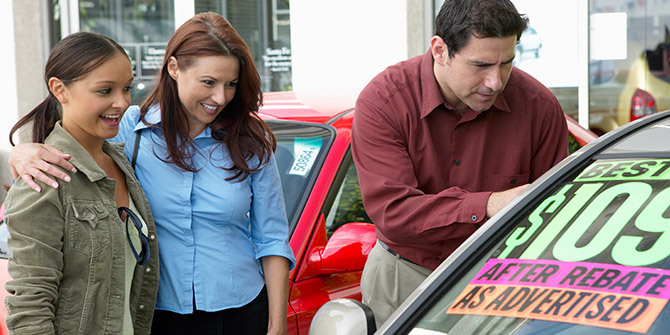 If you're ready for some new-to-you wheels, there are a lot of convincing reasons to buy a used car instead of a new one. For starters, you're likely to save thousands on a used auto compared to buying new. Also, your insurance costs could be significantly lower. While these reasons and others add up to great savings, it's always best to be prepared before you make a big purchase. Here are some recommendations for what to do before buying a used vehicle.
Know before you go
Determine the price you're willing to pay for a used car before you set foot on a dealer's lot. After you've reviewed your budget, you'll have a good idea of how much you can comfortably spend. If you're taking out a loan, know what you can afford in a monthly car payment. This calculator can help you see how much car you can afford with different loan terms. With that final number in mind, you'll be ready to search for your vehicle.
Use the National Automobile Dealers Association (NADA), Kelley Blue Book or Edmunds to find out a car's wholesale and retail value. You can compare multiple vehicles on those websites to find the best make, model, mileage and more for your needs.
Get your financing in place
One of the keys to negotiating a car deal in your favor is to secure the best financing available. After all, even a 1% difference in your interest rate can be worth hundreds of dollars saved over the life of the used auto loan. Try to get pre-approved for a used car loan. If you qualify you will get a check for the amount you're approved to spend. With funds in hand, it can make negotiating a car's price even easier.
Dealership rates are sometimes higher than auto rates offered by financial institutions, which may have lower rates and no hidden charges. Once your financing is in place you can further refine your budget for how much you can spend on a used vehicle versus how much you will spend. This way you're not surprised when that first payment is due. 
Two final tasks
After you've got your financing in place, but before you sign paperwork and drive away, you've got two important tasks to check off your list:
Get it inspected before you buy. If you're not well-versed in car care, bring a friend who is or pay a trusted mechanic to do a full inspection and damage check.
Run your own vehicle history report. Even if the seller offers you a vehicle history report, purchase your own. This way you can be sure you're seeing the complete history of the auto. It's worth paying an extra fee to know the car's history, including inspections, possible accidents and any previous damage.
When you're ready to buy your next car, use these tips to save money and get a vehicle that will make you happy for years to come.
The advice provided is for informational purposes only.
Used Auto Loan is subject to approval. APR = Annual Percentage Rate. Vehicles may not be older than 10 years or have mileage in excess of 150,000 at time of loan origination. Loan terms up to 72 months are available for used vehicles 5 years of age or less with mileage less than 100,000. Loan terms are limited to a maximum of 48 months for vehicle models between 6 and 10 years old, or with mileage that exceeds 100,000 up to maximum of 150,000. LGFCU will finance 100% of the NADA value, plus an additional 10% to cover purchase-related expenses such as tax, tags and extended warranties. Cash-out is not permitted on purchase transactions and cash-out refinance transactions are limited to a maximum Loan to Value of 100%. Lending is limited to residents of NC, SC, GA, TN and VA. No pre-payment penalties. Vehicles with branded (flooded, salvaged or reconstructed) titles or motorcycles, boats, RVs and commercial vehicles are not acceptable collateral. Product availability and current rates may be changed at any time at the discretion of the Board of Directors. Borrower must maintain collision and comprehensive insurance protection with a maximum deductible of $1,000 for the life of the loan. Must be age 18 or older to qualify for lending services.