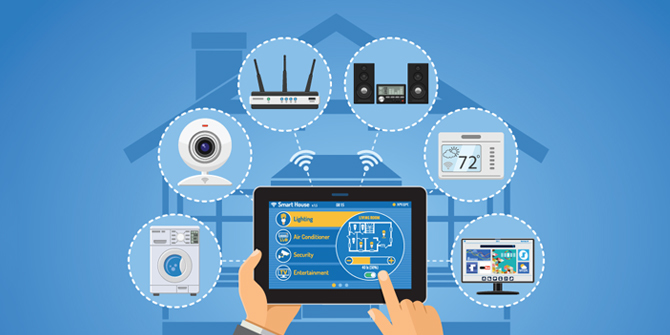 Your cellphones, laptops, smart speakers (e.g. Amazon Echo), smart refrigerators and the other "smart" devices make your life easier, and more enjoyable. But criminals like them too, since they store a lot of your personal information. That's why it's important to keep your devices secure, whether it's your smart fridge or your smartphone. Here's how.
Passwords are still important basics
Generally, all devices — whether you wear or carry them — can benefit from strong passwords or passphrases. It's one of the most basic keys to security, but always worth repeating. In an informal Facebook poll, respondents agreed that strong passwords are a good first step toward protecting any device. A strong password is one that can't easily be guessed. In this case the longer, the better. With an 11-character password, you may need a mix of upper and lowercase letters, numbers and symbols.
By the time you reach a 16-character password, a mix of upper and lowercase letters may be all the complexity you need. Go a step further and create a passphrase, where allowed. String together random words to get to a longer and stronger password.
Remember if you're not using Wi-Fi to connect your device to the internet, data charges may apply. Be sure to check with your carrier for additional details.
The next layer of basic protection
When available, use two-factor authentication to further help protect your identity and your account. This extra layer of security combines a username and password with a second factor only you have such as a one-time passcode via text message; a push notification to a mobile device; or a code generator app. The second factor could also be something unique to you like a fingerprint or retinal scan.
In the Facebook poll, members also agreed it's best to keep the operating system up to date on any device. That means downloading all manufacturer updates as they become available.
Security for your trackers and timepieces
Protecting the devices you wear (e.g. smart watch or fitness tracker) is very similar to protecting your cell phone or laptop. There are, however, some additional tips to consider for wearables.
When you're shopping for a smart watch or fitness tracker (also called wearables) don't forget about security. Consider how the manufacturer protects your information in addition to your fashion needs. Your wearable can be an easy target for thieves. So, avoid storing personal or financial information (e.g. Social Security number, financial account numbers, credit cards) on a wrist device.
Keep your Internet of Things secure, too
The world is moving from being just an internet of connected people to an internet where everyone and everything is connected. This is known as the Internet of Things (IoT). As technology advances, more things have become smart, like refrigerators and thermostats.
A 2015 Cisco/DHL Trend Report found there were 425 million smart devices in use. That number is predicted to grow to 50 billion before 2020. Further a 2015 NCSA/ESET Survey, "Behind our digital doors: Cyber security & the connected home," said 67 percent of households today have between 1 in 5 connected devices at home. And, more than 1 in 5 households use mobile devices or apps to remotely access or control devices in the home.
That's a lot of devices collecting and sharing information. So, don't forget to keep your IoT devices secure, too. This way you're only sharing what you want to be known about you. And you're making it harder for criminals to access and misuse your information.
These safety measures can help protect it all:
Change your default login credentials to something you'll remember. 
Keep software up to date. 
Know what data is being collected and how it will be used. 
Limit what the device/app can do. (Does your thermometer need access to your contacts list?) 
Lock down your home router
Use a strong password to protect the devices in your home that run on Wi-Fi, including your wireless router. Even better, create a separate wireless network name — sometimes referred to as SSID — and password for guests. The advantage here is that your primary wireless network remains locked down and separate from the guest network. This allows guests to get online, but reduces the chance of malware or a virus infecting your home network.
You don't need a second router to do this. Check your device manufacturer's website for guidance if you don't know how to make the change.
Think before you act
Information about you, such as the games you like to play, your contacts list, where you shop and your location, has value — just like money. Be thoughtful about who gets that information and how it's collected through apps.
Many of us download apps for specific purposes, such as planning a vacation, and no longer need them afterwards. Or we may have previously downloaded apps that are no longer useful or interesting to us. Either way, it's a good security practice to delete apps you no longer use. For those you do use, make sure they use strong encryption to keep your data safe.
October is National Cyber Security Awareness Month. Visit the National Cyber Security Alliance for more tips and advice for staying safe online and protecting your devices.
The advice provided is for informational purposes only.