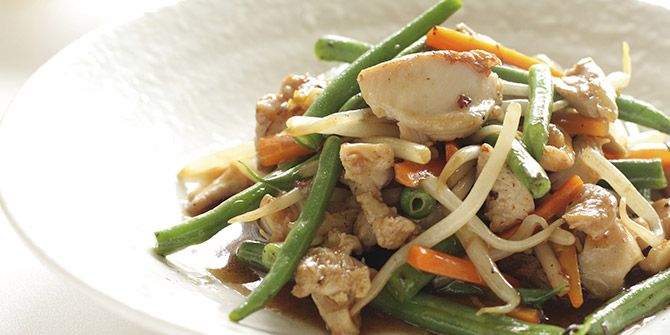 You know you should be eating healthy foods because they're good for you, but did you ever think that your diet could save you money? Taking good care of yourself can help you avoid costly medical bills for health-related problems. And, when you break down the cost of unhealthy convenience foods they're much more expensive over the long run than healthier grocery choices. Here are some quick tips to help you stay on track and on budget:
Make a menu for the week. Focus on making a realistic meal plan for the week. If you know you'll have late nights ahead, plan on something like a veggie stir fry that takes only a few minutes to put together. Get your family to help make the menu so your picky eaters won't turn up their noses.
Warm up to freezer cooking. Cooking and freezing ready-to-go meals for later use is a hot life hack that lets you enjoy more chill time. That's because in just a few hours you can easily stock your freezer with healthy meals, maybe even for the whole month! A little up front work can save you lots of time and money during the following weeks. 
Stock up in season. Now that you're chilling with your freezer, hit the farmers market for end-of-season deals on things like berries and tomatoes that are more expensive during the winter, and you'll enjoy berries on your oatmeal and fresh tomato soup when the weather turns chilly.
Use your computer to find coupons. Don't just settle for what comes in the Sunday paper. You can find coupons online to help you quickly add up your grocery savings. Some grocery list apps even come with coupon programs built right in to help you save on what you're buying that week. Remember to use caution before downloading anything to your phone or computer.
When in doubt, make soup. Soup is a quick and nutritious way to use up odds and ends in your refrigerator. Throw everything into a blender with a little broth and some seasonings, and dinner (or lunch) is done!
Look at the unit price. Most stores list the unit price on the shelf next to the sale price of an item, and if they don't, do the math to figure it out yourself. A 12 oz. box of cereal for $2.98 comes out to 24 cents per ounce. A 22 oz. box of cereal at $4.50 is more expensive on first glance, but comes out to 20 cents per ounce, a pretty significant saving.
Try a new place to shop. Grocery stores aren't the only places to get groceries. Check out dollar stores for pantry items, ethnic markets for fresh vegetables and even take a look online. Some online delivery services like Amazon offer subscriptions on grocery items that can help you save and make sure your kitchen is stocked with your favorite healthy foods.
Buy what others won't. Ugly fruits and vegetables have just as much delicious taste as the pretty, shiny ones and they often cost less. You may also find deals on meat that's about to go past its sell-by date; freezing it as soon as you get home can keep it good for up to a few more weeks or months.
Only buy what you'll use. It's not a good deal if you have to throw it away, and fresh fruits and vegetables can go bad quickly if you don't use them. Keep fresh produce buys to just what you'll use or eat during the week and avoid buying too many unless you plan to freeze them. 
Forget about brands. Often you pay a premium price for a brand name that doesn't always mean the food is better quality. Discount grocery store chains feature private label brands, which are foods produced by the same brands you're used to seeing at mainstream grocery stores, but they're marketed under a unique name. Same food, different name, lower cost.
Eating healthy doesn't have to mean shopping at expensive organic stores. With a little extra time for planning and making your meals ahead and shopping around for the best deal, you can eat cheap and healthy at the same time.