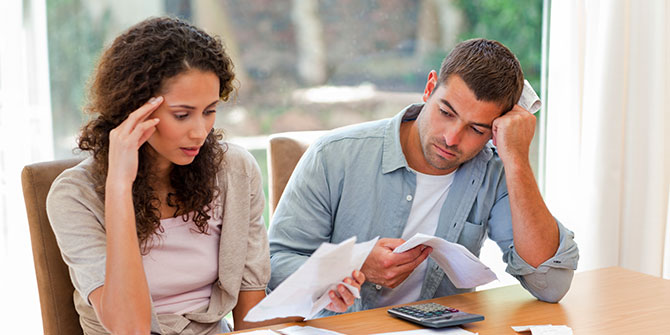 Do financial worries keep you up at night? Here are four of the most common ones and keys to tackling them.
Unexpected expenses
Some things in life can't wait, including emergency medical situations or critical home repairs. Both can devour your savings in short order. To ease your worries, plan ahead before disaster hits. Make sure you have adequate insurance coverage for health care costs and property protection. Start setting aside money from every paycheck in a dividend-bearing account, such as a Share Savings Account or a Money Market Share Account, so when the unexpected occurs, you'll have a cushion. Even if you start small, the compounding dividends earned can help increase your stockpile of money over time.
Overwhelming debt
When you're burdened by a heavy load of debt, tackle the problem head-on. Review your debts so you know where you stand. Take a look at your spending, too, to see where you can cut back and put more money toward your debts. Contact creditors to discuss repayment plan options. If it feels like too much for you to handle on your own, talk to a financial counselor or consider debt consolidation services to develop a plan to pay down the debt and get back on track. An online money management tool like Compass by LGFCU can help you going forward with budgeting and tracking your spending to help keep you from falling back into old spending patterns.
Income loss
Whether you're supporting only yourself or supporting a family, losing a job can be devastating and push your finances into chaos. Find out what benefits are offered from your former employer — will there be severance, job placement services? And what are your options for healthcare under COBRA? Now's a good time to update your resume and maybe even brush up on a few skills to help get you back in the job force sooner after a job loss. Look for ways to reduce spending and avoid taking on debt or tapping into retirement accounts, if you do find yourself out of work.
If a job loss does occur and you have debt, turn to your Credit Union branch to inquire about products and services to help you get through this difficult time, such as auto refinancing and mortgage assistance.
Not enough in retirement fund
If you're feeling behind on taking care of your future, stop worrying and just get started. Take advantage of your employer's matching 401(k) plan — it's free money! If your employer doesn't have a retirement plan, or you're self-employed, you can open up your own retirement account, such as a Roth or Traditional IRA. And if you are age 50 or over, you can make catch-up contributions above the annual limits for 401(k) plans and IRAs. Remember, the rule of compounded interest shows it's better to invest even a nominal amount on a regular basis than none at all.
Fear not 
LGFCU can help you find practical ways to monitor your spending and credit reports, learn how to pay down debt, assess your retirement future, and meet your financial goals. Take advantage of the Credit Union's financial advice information, or call to make an appointment for financial counseling at your local branch. 
The advice is provided for informational purposes only. Contact a financial advisor for additional guidance.