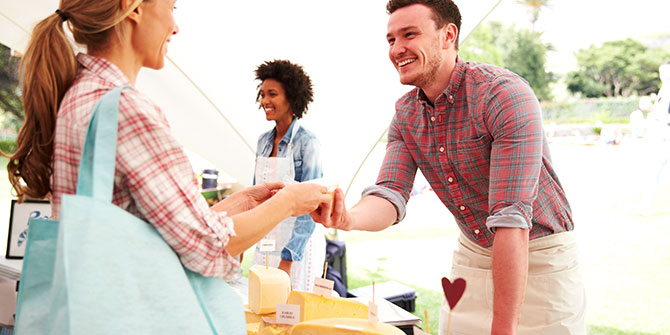 Our digital world makes it easier to shop globally, but did you know shopping locally can make your community a better place to live? Scores of studies show buying from locally-owned businesses keeps significantly more money in the local economy. Here are some of the benefits of shopping locally.
Keep money local
Business owners buy goods and services from other local businesses, recirculating your money throughout the community. This means more of every dollar stays in the local economy, creating a locally-owned supply chain and boosting your community's economic base. Just as businesses buy goods and services from other local businesses, so do the employed.
Local spending creates more jobs and reinvests in your community's employees. When local businesses prosper, owners stay in the community and become more vested in its future. Locally-owned businesses employ more people per sales unit and tend to keep more employees during downturns in the economy.
LGFCU is also invested in the community. Your deposits help ensure a better financial future for people across all municipalities with local event sponsorships, college scholarships, professional development scholarships, and community improvement initiatives.
Small rewards
You might score some occasional deals when buying locally crafted goods, such as artworks and foodstuffs. Independent retailers can reward regular — or even first-time — customers with discounts or by throwing in little extras, benefits you won't get at big box stores. You might also get to try before you buy foodstuffs. Wineries and breweries, cheesemakers, bakers and other crafters of specialty foods often have tastings at local markets or in their own shops.
When it comes to your purchases, more and more small vendors accept major credit cards, like your LGFCU Visa® Credit Card or Debit Card. Using a small attachment on their cell phone, the vendor can swipe your card just like a traditional store owner, making it easy to track your purchases and stick to a predetermined budget.
Beyond dollars and cents 
Your community's social capital, civic engagement and well-being increase when local businesses make up a greater share of its economy. Also, local businesses tend to donate more to area nonprofits, enriching the welfare of you and your neighbors.
Buying locally-produced goods means those items travel fewer miles, reducing carbon emissions and leading to cleaner, healthier environments. Local spending also encourages entrepreneurship. Communities tend to protect their one-of-a-kind businesses with development grants or other incentives. Distinctive goods and services can also boost tourism, creating even more economic benefits.                                
North Carolina is rich with artisans and small businesses selling unique goods and services. Check with your local chamber of commerce, agricultural extension office, or arts council to learn more.
The advice provided is for informational purposes only.