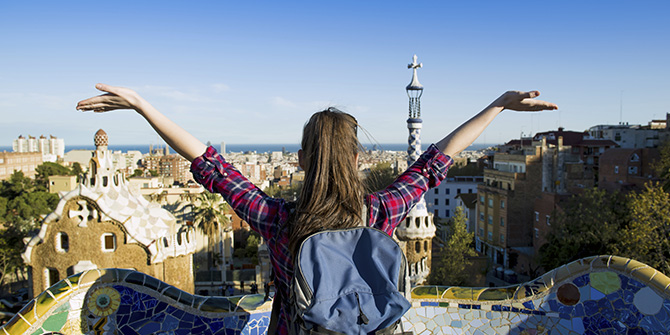 Thousands of U.S. students study abroad every year. From making travel plans to packing, leaving for a new country can be exciting and a little bit daunting. Here are a few tips to help students prepare for a semester abroad.
A healthy trip starts before leaving the country
Don't let getting sick and spending time in the hospital take away from your time sightseeing. Your child should visit a doctor or a travel clinic at least four to six weeks before departure to get necessary immunizations and medications. For country specific vaccination and health information, check the Center for Disease Control's website. You should also contact your insurance provider to see whether your child's coverage applies internationally. In some cases, your student's college will recommend or require the purchase of special travel insurance. And be sure your child carries his insurance card with them at all times.
Remind your child to be safe with their money 
Travelers should take extra measures to protect themselves and their money. If your child plans to use an LGFCU Visa®  Credit Card, Visa Check Card or CashPoints® Global Card while abroad, notify the Credit Union of travel plans to avoid a suspension of service. Often times, financial institutions will suspend card usage as a safety precaution against theft. The Credit Union maintains a list of countries where travelers might have limited access to their card. Look into any foreign exchange fees on ATM, debit or credit transactions.
As a general rule, remind your student to avoid carrying large sums of cash in public. In large crowds, wear backpacks or purses in front of the body to deter pickpocketing. For additional security, consider buying your child a money belt to keep money more secure. And only carry what cash is needed.
Use caution when exchanging currency abroad. Look for a certified money exchange center or bank to exchange currency. Keep in mind that your child can also change money before departing at your local branch two to three weeks before travel or at an airport. However, exchange rates might be more favorable in the host country.
As always, remind your child to stay cautious to avoid theft and fraud. In case of emergency, they can call the Contact Center at 888.732.8562 with the country code (011) if they're unable to access their account or if they notice any account fraud.
When packing, keep it light!
Airlines often impose hefty fees for additional or overweight bags, so encourage packing only the essentials. Unless your child has specific brand preferences, toiletries or small incidentals like shampoo or towels can easily be purchased while abroad. Pack travel-sized bottles in the meanwhile.
When packing clothing, choose lightweight items that easily mix and match. Your student is bound to do a little shopping while abroad. However, remind them to bring a sturdy and comfortable pair of shoes, which can be harder to find – and more expensive – away from home. If you need to ship any items abroad, know that there are strict shipping and customs regulations. Contact your school's study abroad office before shipping any items overseas.
Finally, don't forget to pack essentials like prescription medications and travel documentation. Keep these items in a carry-on bag for easy access.
Compare options for calling home
When it's time to call home, there are a number of ways to stay in touch with loved ones. International cell phone plans could be expensive; Buying a pay-as-you-go phone or calling cards may be cheaper. Using low- or no-cost voice and video chat apps also lower cost ways to stay connected. In some countries, mobile messaging applications are popular for saving money. Contact your wireless carrier in adavnce, as data charges may apply if you're using a mobile device. Regardless of your preferred method, remind your child to check in with friends and family while overseas.
Advance knowledge is priceless
It's best to research ahead of the trip to build a budget that allows for unexpected costs. Here are some topics to look into before leaving:
Discourage your child from walking around with a guidebook. This practice makes travelers more susceptible to tourist traps and theft.
A basic understanding of the laws. Make yourself aware of the rules and regulations of your study abroad sponsor program and the local laws. You will need to conform to the legal system of your host country.
The local culture. Determine information like whether to pack more modest clothing or whether the country has a tipping culture.
Food and water quality. If your child has a severe allergy, consider printing out a card that explains his or her allergy in the local language. Furthermore, check whether the country's drinking water is safe. Your child may have to include buying bottled water in the travel budget.
The Smart Traveler Enrollment Program. This program allows American travelers to register their trip with the U.S. Embassy or Consulate. By signing up, your student will receive information about country-specific travel safety conditions. Registration helps the Embassy, family and friends contact your child in the event of an emergency.
Studying abroad can provide a worldview that can't be taught in the classroom. No matter where your travels take you, LGFCU wishes you a safe trip.