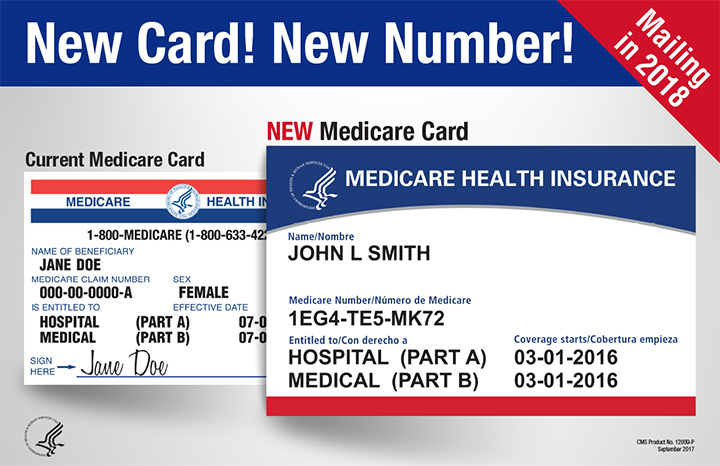 Medicare beneficiaries in North Carolina will get a new card with enhanced security by mail starting in June.
The new cards will feature a Medicare Beneficiary Identifier (MBI) consisting of 11 randomly generated numbers and uppercase letters. No special characters will be used. The MBI replaces the Social Security-based Health Insurance Claim Number (HICN) currently used on the Medicare card.
The new cards are part of a fraud prevention initiative that removes Social Security numbers from Medicare cards to help combat identity theft and safeguard taxpayer dollars. The Centers for Medicare & Medicaid Services (CMS) began a targeted rollout of new cards in April 2018 and will complete the changeover by April 2019.
New cards reduce your risk of identity theft
Personal identity theft affects a large and growing number of seniors. People age 65 or older are increasingly the victims of this type of crime. Incidents among seniors increased to 2.6 million from 2.1 million between 2012 and 2014, according to the most current statistics from the U.S. Department of Justice.
Identity theft can take not only an emotional toll on those who experience it, but also a financial one: Two-thirds of all identity theft victims reported a direct financial loss. It can also disrupt lives, damage credit ratings and result in inaccuracies in medical records and costly false claims.
"We're taking this step to protect our seniors from fraudulent use of Social Security numbers which can lead to identity theft and illegal use of Medicare benefits," said CMS administrator Seema Verma. "We want to be sure that Medicare beneficiaries and health care providers know about these changes well in advance and have the information they need to make a seamless transition."
Providers and beneficiaries will both be able to use secure look-up tools that will support quick access to MBIs when they need them. Plus, during the 21-month transition period, providers will be able to use either the MBI or the HICN, further easing the transition for both providers and Medicare beneficiaries. For more information about the changes to your Medicare card, contact your local Social Security Administration.