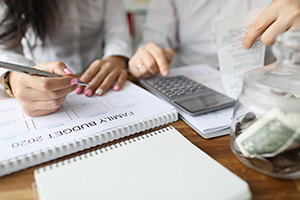 If you're having difficulty making loan payments on time, the Credit Union is offering payment extensions, partial payment plans, forbearance or refinancing of existing debt for eligible members.
These loan assistance options are available for eligible members experiencing job loss, reduction in hours or other income loss related to the COVID-19 pandemic. Also, you must have an LGFCU mortgage, auto, or personal loan, or credit card.
Member service representatives can also help you apply for a new loan if needed. And, our Mortgage Assistance Program provides additional plans specifically for LGFCU mortgage loans. Assistance for all loan programs is subject to approval.
Make a short-term plan
We realize you may have many more financial obligations. Making a plan to prioritize how to pay your expenses during hard times is essential. This fillable worksheet from the Consumer Financial Protection Bureau provides helpful insights to help you manage bills in difficult situations.
When you're ready, we are here
We want to help you protect your home, vehicle and your credit rating. Log in to Member Connect and send us a secure message or call your local branch.
You also can call 24/7 Member Services at 888.732.8562, but please be aware you may experience delays due to a high volume of calls.