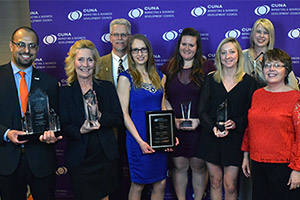 LGFCU recently won three credit union industry awards for its partnership with the UNC School of Government's Development Finance Initiative (DFI).
In March, LGFCU won the Credit Union National Association's (CUNA) Marketing and Business Development Excellence Award for the DFI. The award recognizes outstanding new marketing and business development approaches that offer the potential for universal application across the industry.  
The DFI program provides specialized finance and development expertise to help local governments attract investments for community projects that create lasting change. In addition, DFI partners with communities on projects that promote:
Building reuse and downtown revitalization

Master planning and execution

Community and neighborhood development and

Economic development including assessment of underutilized assets.
​Two more special recognitions for DFI
LGFCU also earned first place in the Carolinas Credit Union League (CCUL) Dora Maxwell Social Responsibility and Community Service Award, more than $1 billion in assets category, for the DFI. As a result of its first-place win at the state level, LGFCU became eligible for the national CUNA Dora Maxwell award, winning Honorable Mention. 
The Dora Maxwell Award recognizes model credit union efforts to strengthen local institutions and materially improve the lives of nonmembers within a community through outreach programs. 
"The initial investment LGFCU made in the DFI continues to deliver on its purpose of helping to create new opportunities for growth in economically-distressed communities," LGFCU CEO Maurice Smith said. "It's no surprise that given the support made available through DFI, local governments have been able to move forward in planning and implementing transformative projects. We see continued support of this initiative as an investment in communities across the state to provide economic stability and growth."
Winning these awards highlights LGFCU's steadfast commitment to improving the lives of members. Discover more about the many ways your Credit Union serves you at The LGFCU Story.