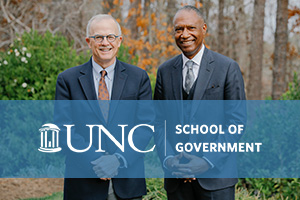 With a 10-year, $12.7 million commitment, LGFCU continues its support of current UNC School of Government programs and funds new initiatives.
"This commitment solidifies our partnership with UNC's School of Government and strengthens North Carolina communities through economic development, investments in our state's leaders and a focus on social challenges," noted Maurice Smith, LGFCU Chief Executive Officer.
New initiative expands the partnership
Monies from the fund will help create an innovative program to improve communities."Solutions for North Carolina" is a new initiative that involves local governments and their community partners developing evidence-based strategies to address local challenges, such as the opioid problem and affordable housing.
Strong partners mean strong communities
The Credit Union will continue to fund the UNC School of Government Scholarship and the tuition-free LGFCU Fellows Leadership Program. This program provides emerging local government leaders in North Carolina with professional development. Currently, more than 400 Fellows sponsored by LGFCU lead over 5,000 city and county employees across the state.
Michael Smith, Dean of the UNC School of Government, added, "LGFCU has funded some of the most important programs in the School's 91-year history. It is difficult to imagine a better partner in the work of advancing our mission of service to North Carolina, its public officials, and its community members. I am proud that this investment will link our institutions in the years to come."