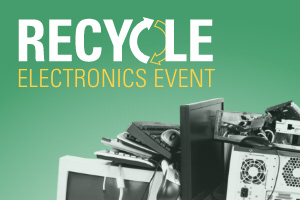 LGFCU is sponsoring free electronics recycling events beginning this October to help you protect your personal data and rid yourself of old electronics.
We've partnered with Randolph County to kick off these special free community events. The first hazardous electronic-waste (e-waste) event is scheduled for Saturday, October 3, from 8 a.m. to noon at Creekside Park, 5834 Mose Drive, Archdale, NC 27263. The event is co-sponsored by Keep Randolph County Beautiful.
What can I drop off?
Bring telecommunications, networking and computer equipment, such as:
Cellphones
Circuit boards
Computer processors
Computer wire
Copiers/printers
Desktop computers, monitors, towers and accessories
Gaming consoles
Hard drives
Laptops
Modems/routers
Radios
Remote controls
Power and A/C adapters
Scanners
Tablets
Telephone systems
Televisions
Two-way radios
Uninterruptable power systems (UPS)
VCRs
We do not accept household appliances, batteries or any type of used medical device.
Trust us to handle your info securely
All electronic equipment and devices will be recycled in a safe and environmentally sound manner. Items which may contain sensitive information will be shredded, then recycled.
Check the In the Spotlight section on our homepage for future electronics recycling events near you.