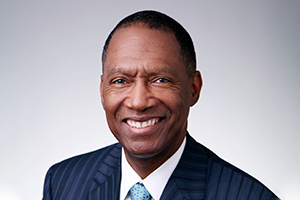 LGFCU Chief Executive Officer Maurice R. Smith has been chosen to receive the African-American Credit Union Coalition's (AACUC) Pete Crear Lifetime Achievement Award in recognition of his more than 35-year commitment to the credit union industry.
Longtime credit union advocate
According to the AACUC, Smith, the former board chairman of the Credit Union National Association (CUNA), is a staunch supporter of credit union principles and philosophy. He believes that a business model which empowers its members to share in a democratic, self-help institution with strong principles that exceed social status and class barriers is better than other business types.
Smith's commitment to the credit union industry played a large role in his selection. He has served on the AACUC's Board of Directors; the CUNA Advocacy, Ethics and Corporate Governance committees; the National Association of Federal Credit Unions Accounting Standards Committee; and the North Carolina Credit Union League of Directors. He also served as chairman of the Filene Research Institute Administrative Board and was a member of the Carolinas Credit Union Foundation Board. In 2017, Smith was inducted into the AACUC Hall of Fame.
The AACUC, a nonprofit organization that works to increase diversity in the credit union movement, will present the award to Smith at its 21st annual conference in Charlotte on August 9, 2019.
"We are proud of Maurice Smith's accomplishments and look forward to honoring him in Charlotte," said Adrian S. Johnson, AACUC board chairman.
A passion for local government employees
The AACUC also said Smith's unwavering support for North Carolina's local government employees and his personal commitment to community service makes him an exceptional leader. His combined efforts make him well-suited for his leadership role at LGFCU and Civic Federal Credit Union, and in the credit union industry. He is committed to LGFCU's mission, "To improve the lives of our members."
Under Smith's leadership, LGFCU provides many scholarship opportunities for its field of membership. Each year, LGFCU awards more than 200 scholarships for higher education and professional development. In addition, Smith has always been a strong advocate of employee training to help staff reach their potential through the development of talents, skills and creativity.