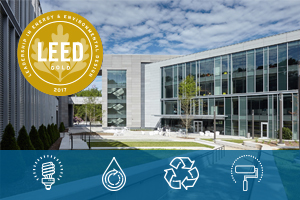 LGFCU's Wake Forest Road building is now among the more than 300 buildings across North Carolina certified LEED Gold® by the U.S. Green Building Council®.
Achieving Leadership in Energy & Environmental Design (LEED) Gold certification means LGFCU took great care to create and continue to maintain a highly energy-efficient building. Taking steps to reduce its water usage and decrease greenhouse gas emissions were just a few ways the building reached this prestigious environmentally-friendly status.
"LEED certified buildings like ours save members money by reducing our building operating costs," said Mark Caverly, LGFCU Executive Vice President. "It also promotes renewable, clean energy for the environment overall, and adds to the beautification of the area. Because of the new design, we received a Sir Walter Raleigh Award for Community Appearance in 2016."
LEED is the preeminent program for the design, construction, maintenance and operations of high-performance green buildings. The certification process is a credit-based system that awards points for environmentally friendly construction practices and building use. The greener the design, the more points earned toward silver, gold or platinum certification levels. LGFCU partnered with architectural firm Gensler, which has offices in Raleigh, to design the building.
The road to a greener facility
Construction: The former Wake County Public Schools building was stripped down to its steel beams and dividers between floors. LGFCU committed to sourcing about 20 percent of building materials within a 500-mile radius of Raleigh. Contractors reused as much of the old building material as possible. That effort kept more than 50 percent of waste out of local landfills. Fewer trips meant LGFCU reduced the environmental impact to nearby communities.
Exterior: Another boost came from a commitment to reducing our carbon footprint. Having a city bus stop nearby, bike racks, dedicated parking spaces for fuel-efficient vehicles, building a parking deck and sourcing renewable energy to power the building contributed greatly to certification.
Interior: Inside elements such as low-flow bathroom faucets, high-efficiency HVAC system and LED lights contribute to a significant reduction in energy usage. Low-fume paint was also used.
"We're proud to have a building that reflects a commitment to sustainability," Caverly said.
LEED is transforming the way people think about buildings and communities around the world. To learn more about LEED certification visit U.S. Green Building Council.