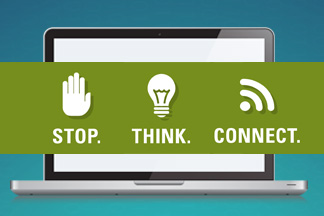 Join LGFCU in October as we recognize National Cyber Security Awareness Month. Our goal is to help you keep your online experience safer and more secure.
We now live in a world that is always connected. The Internet touches nearly every aspect of your daily life, whether you realize it or not. As a result, cybersecurity means staying protected while you're connected.
Everyday online activities like checking your account balance, shopping, social networking or downloading the latest apps is a reflection of how interconnected our online lives really are.
In our digital lives we may face any number of issues from cybercrime and scams to teaching children to use the Internet safely, more securely and responsibly. Wherever we are and however we access the digital world, every step we take to be safer will make ourselves, our families and our communities more secure.
Today we all play a role and need a strong knowledge base to safely navigate our always-connected world. All month long in Aim and in social media, we'll provide tips and tools to help you and your family enjoy your time online safely and securely.
Join the conversation on Facebook and Twitter using #CyberAware.