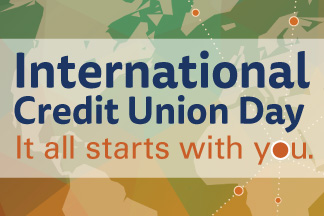 For more than 65 years, credit unions around the world have celebrated International Credit Union Day® (ICU) on the third Thursday of October. This day is dedicated to show members how much we appreciate your loyalty and to talk about the credit union difference.
This year we're celebrating the credit union world's philosophy of "People Helping People®" all month long. It's a theme that is ingrained in LGFCU's mission and values, and characterizes many credit union cooperative principles.
"People helping people has always been central to credit unions' existence," said Brian Branch, President and CEO of World Council of Credit Unions. "This timeless concept resonates well with all generations." This is especially true for those who value socially responsible organizations that put people before profit.
The ultimate goal of ICU Day is to raise awareness about the great work credit unions are doing around the globe and give members the opportunity to get more involved. It's a time to honor those who have dedicated their lives to the business of helping others as part of a cooperative movement.
Nationwide, credit unions will celebrate over 100 years of serving members — more than 100 million to date. The services offered by credit unions have seen significant changes over the years. In 1915, we didn't have debit cards, websites, mobile services or ATMs. Even though technology has improved the member experience, credit unions like LGFCU continue to embrace the original ideals of helping to improve the lives of their members.
At LGFCU 'People Helping People' starts with you. As one of our member-owners, you are among the thousands who pool their resources, including profits, to help other members. Your membership produces a ripple effect. When our friends, neighbors and communities have a better financial outlook we all succeed.
But it all starts with you.
Join the #ICUDay conversation! Share your LGFCU membership story on Facebook and Twitter.