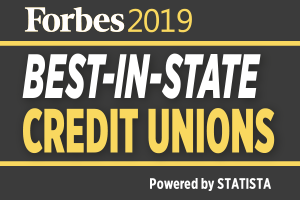 Local Government Federal Credit Union earned back-to-back rankings as the No. 1 Credit Union in North Carolina, in Forbes magazine's second annual listing of the Best-In-State Banks and Credit Unions.
Once again, LGFCU earned high marks in Forbes' survey of more than 25,000 credit union members and bank customers across the U.S., who were asked to rank their current and former financial institutions on criteria including trust; terms and conditions; branch services; digital services; financial advice; and overall recommendations and satisfaction. Only 3% of financial institutions in the U.S. made this list.
"We are deeply honored not just to be featured on this list, but to be recognized as the number one credit union in North Carolina for two consecutive years," said LGFCU President Mark Caverly.
"Delivering great service and value to our members is our goal every day. And to receive this member-driven recognition shows what our members know and want to share with others: That we're a member-owned, nonprofit cooperative working hard to earn their trust and business."
Factors most important to members
In conducting its Best-In-State Banks and Credit Unions survey, Forbes noted the importance of customer service, accessibility and financial advice in an industry that has seen massive changes since the mid-1980s, including significant growth in online services.
Overall, credit unions fared better than banks in the Forbes survey, since member-owned credit unions typically feature lower fees and lower rates than traditional banks. Plus, the nonprofit model and philosophy of "people helping people" puts the credit union member first, resulting in higher levels of satisfaction.
Learn why LGFCU members are so satisfied. Discover more of our story or find out how you can join LGFCU.