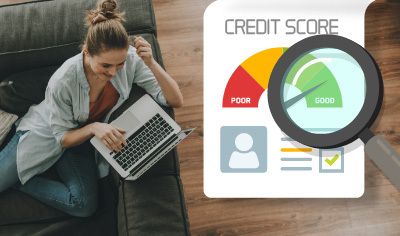 You can continue to get three free credit reports weekly until April 2022. The three credit bureaus extended the date to help consumers easily monitor their information as the pandemic continues.
Typically, Equifax, Experian and TransUnion offer individuals one free credit report per year at Annual Credit Report, their shared website. Now, you can receive three credit reports (one from each company) every week. The free credit report does not include your credit score.
As some lenders are working with consumers to make changes to their payment amounts or due dates, it's helpful to monitor your credit report more often. You can make sure your lender reports your accounts as current, in keeping with the agreed upon payment arrangement.
Even if you have not made new payment arrangements with lenders, you still want to look at your report to check for errors or fraudulent activity. If you do find an error, frequent checking allows you to correct mistakes faster.
Get a credit report by phone or by mail
If you don't have online access, there are other ways to get your credit report. Call 877.322.8228 to request a paper copy. If you prefer to request your report by mail, print and complete the Annual Credit Report Request Form and mail it to:
Annual Credit Report Request Service
P.O. Box 105281
Atlanta, GA 30348-5281
Whether by phone or mail, your credit report is mailed within 15 days.
There's also information about requesting reports in special situations such as those related to guardianship, children under 13, or for those who have a visual or hearing impairment.
LGFCU is also ready to help you monitor your finances
While the credit bureaus help you stay up to date on your credit history, LGFCU is committed to helping you do the same with your credit score. Learn more about how your credit score affects your finances and what you can do to protect it.