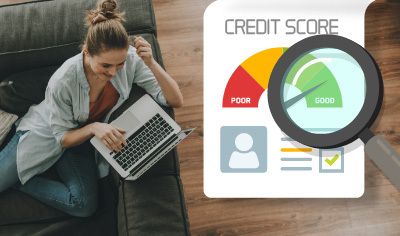 To help you better track your credit during COVID-19, you can now get a free copy of your credit report online, once a week through April 2021.
This important offer comes at a time when the new coronavirus has made it hard for many families to keep up with paying bills or getting approved for new loans. Typically, each of the three major credit bureaus — Equifax, Experian and Transunion — offer individuals one free credit report per year. Now, you can receive three credit reports (one from each company) every week at no cost. Keep in mind these free credit reports will not include your credit score.
To request a copy of your free credit report, visit annualcreditreport.com. Once on the site, answer a few questions to verify your identity. Then choose which report you want to view or download first. If you don't have online access, here are other ways to get your credit report and credit score, which helps give a fuller picture of how you're managing your credit obligations. Lenders, potential employers and apartment leasing companies use your score to determine if you're creditworthy and/or likely to repay a loan.
Why it's important to check your credit report
Your credit report contains valuable information about you and your finances. Paying on time and keeping your balances low helps keep your score high. Late payments could result in having your account reported as "overdue" on your credit report and you risk a drop in your credit score. These days, some lenders are working with consumers to make changes to their payment amounts or due dates. So, it's helpful to monitor your credit report more often to make sure your lender reports your accounts as current, a reflection of the payment arrangement.
Even if you have not had to make new payment arrangements with lenders, you still want to look at your report and check for errors or worse, fraudulent activity. If you do find an error, frequent checking will allow you to correct mistakes faster.
Let LGFCU help
Your Credit Union can help you understand your credit score better. We also have resources to help you know what matters most about your credit report. And, if you're facing financial hardship, we may be able to help you with solutions to protect your finances.