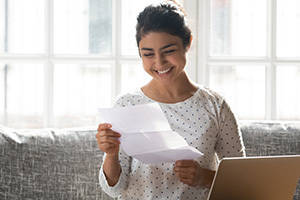 If you're a college student who needs assistance completing the Free Application for Federal Student Aid (FAFSA), your Credit Union can help.
Where can I get help with the FAFSA?
Now through November 30, from 8:30 a.m. to 5:30 p.m. weekdays, Credit Union representatives are ready to help you complete and electronically file FAFSA applications for the 2021-2022 academic year at no charge to LGFCU members. Pre-registration is not required, but it's helpful to contact your local branch in advance to ensure someone is available to meet with you. 
You need to bring the following information to your visit:
Federal Student Aid (FSA) ID. Bring the parent's and student's email addresses used to create the FAFSA ID, your answers to the security questions, and the FSA ID with you so you can sign the FAFSA.
Completed 2020-2021 FAFSA on the Web Worksheet. This worksheet provides a preview of the questions that you may be asked while completing the FAFSA.
2019 tax information. The IRS Data Retrieval Tool, included in the income/asset section of the FAFSA, helps most families transfer this information into the form.
The FAFSA submission deadline is June 30, 2021. However, file your form early, because some schools award aid packages sooner than others.
This service is provided by State Employees' Credit Union in partnership with the College Foundation of North Carolina (CFNC), and the North Carolina Association of Student Financial Aid Administrators.
Ways to pay for school without repaying
Scholarships are a great way to pay for college without incurring debt. The LGFCU Scholarship helps graduating high school seniors or those currently attending colleges, universities and trade schools cover some education costs. Apply by February 1, 2021.
The College Fund of North Carolina (CFNC) is another good resource for information on grants and scholarships and allows students to search for scholarship opportunities.