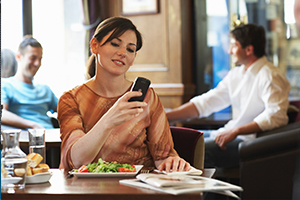 You can now get text messages to notify you about transactions and ATM activity for all LGFCU debit cards.
With debit card alerts you can monitor purchases and identify questionable transactions in near real-time. Once you sign up, you will receive notifications on your mobile phone for specific types of purchases, ATM activity and any time your card is declined. You can set a minimum amount of money that will trigger an alert.
These alerts are available for the LGFCU Visa© Check Card as well as the CashPoints Global, NCSFA, NCAR&EMS and NCRPA debit cards.
Purchase alerts
You'll get an alert for purchases when they meet your preset threshold amount made online or by phone. Alerts are also sent when your debit card is swiped or inserted at a retail location checkout.
Pay-at-the-pump transactions are the only purchases that trigger an alert every time regardless of the pre-set threshold you've set up.
ATM activity alerts
When an ATM withdrawal or transfer to or from the primary checking account meets the preset threshold amount, you'll receive an alert.
Declined card alerts
A notification is sent when your debit card is declined, regardless of amount, for any of the following reasons:
An invalid PIN is entered
An invalid expiration date is entered
Your card has expired
Funds are insufficient to pay the purchase amount (NSF)
Amount exceeds the daily spending limit or cash withdrawal limit
Keep track of your card activity quickly by signing up for debit card alerts today. Log in to Member Connect and go to the Alerts tab. Once enrolled, you can designate a quiet period that is convenient for you since many utilities and companies with autopay run their transactions in the middle of the night.