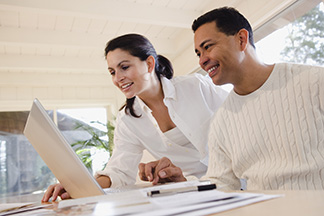 If you have an LGFCU closed-end mortgage, a personal loan with a balance, an open-end loan or an active LGFCU Visa® Credit Card, you can now see your FICO® credit score for free in Member Connect.
Once you're logged in to Member Connect, you'll see a link to your FICO Score and the date it was pulled on the Account Summary page. Next you'll see your FICO Score, the two factors most impacting your score, a FICO Score Meter displaying where your score falls within the possible score range, and a link to opt-out if you choose. You'll also see links to more information to help you better understand your FICO Score, how it's used by others and how LGFCU uses it.
The majority of companies and financial institutions use the FICO Score to decide whether or not you're a credit risk. A low score can keep you from renting an apartment, buying a home, purchasing a new car or qualifying for lower interest rates in many situations.
Knowing your score is the first step in making sure you have access to a variety of lending and credit products, and providing that information to you for free is just one of the ways we're working to improve the lives of our members.