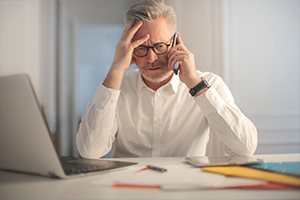 As part of a new phone scam, LGFCU members are being asked to use gift cards to pay for unnecessary computer repairs.
Scammers, claiming to be Microsoft or Apple computer techs, call you to say they have detected viruses or other malware on your computer that needs to be fixed immediately. Or you get a pop-up window with the same message. The scammers, using lots of technical terms, work hard to convince you there's a problem. They may even ask you to get on your computer and open files. They then tell you those files show a problem when there is none.
Two ways to get your money
Once they've convinced you there's a problem with your computer, the scammers use one of two approaches to get your money:
Pay a fee to them. Scammers ask you to pay a one-time fee using retail store gift cards to fix that non-existent problem. The caller may even promise Microsoft or Apple will reimburse you the expense later. Several months after your "purchase," someone calls to ask if you were happy with the service. If you say, "No," the scammer offers a refund. The caller might even say the company is going out of business and is giving refunds. The scammer eventually asks for your debit or credit card account number.
Access to your account. The scammer asks for access to your Credit Union account, claiming to make the "refund" through a direct deposit. Instead of putting money in your account, the scammer takes money from your account. Alternatively, the "refund" is purposefully processed incorrectly. This leads you to believe you now owe the fraudster money and this cycle of fraud continues.
Report it quickly!
If a scammer calls you, report it as soon as possible to LGFCU at 888.732.8562 and also to the Federal Trade Commission.
How to protect yourself
If you get an unexpected call from someone who claims to be tech support, hang up. It's not a real call. And you shouldn't rely on caller ID to prove who a caller is. Criminals can make caller ID seem like they're calling from a legitimate company or a local number.
If you get a pop-up message urging you to call tech support, close the window and don't make the phone call. Tech support doesn't contact you directly.
Ask callers for a phone number so you can call back to verify the company information. You can also verify the phone number on the company's website.
Remember, never share passwords or give control of your computer to anyone who contacts you directly.
There are many types of fraud out there. Turn to your Credit Union for more ways to protect yourself online.