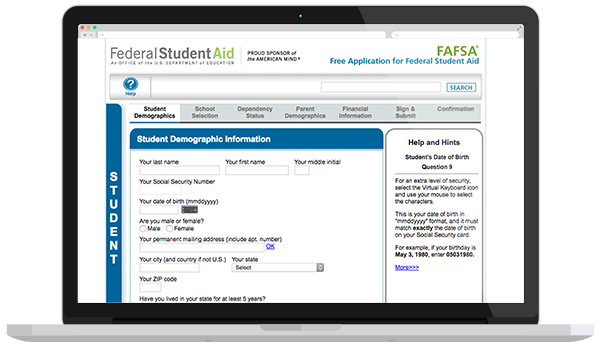 Major changes to the 2017-2018 Free Application for Federal Student Aid (FAFSA®) filing process will give students earlier filing access and likely decrease the need for income updates later.
Submit earlier and use actual income
Students can now file a 2017–2018 FAFSA as early as October 1, 2016 instead of waiting until January 1, 2017 to file. The October 1 filing date is a permanent change. 
The second change requires parents, and students as appropriate, to report income from an earlier tax year. For example, on the 2017–2018 FAFSA, parents and students, if necessary, will report actual 2015 income, rather than estimate 2016 income. 
How will the changes benefit me?
Reporting earlier tax information means parents, and students where applicable, will have filed their taxes by the time the FAFSA is submitted. Applicants will not need to estimate tax information then go back to update it later.
In addition, because tax filing will likely be complete by the time the FAFSA is submitted, students may be able to use the IRS Data Retrieval Tool to automatically import tax information into the application, right from the first day it's available. This allows students and parents to have more time to review college financial aid options. They'll also have a better idea of their Expected Family Contributions earlier. Knowing these details can help families navigate the college application and selection process.
For more information about the changes to the FAFSA filing process, read the U.S. Department of Education's fact sheet of frequently asked questions for students and parents.