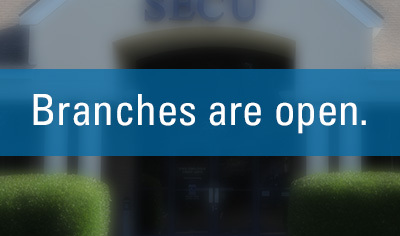 All Credit Union branch lobbies and offices are now open for in-person member service.
Protective precautions added
To help protect you, your family and branch staff, only a limited number of members are allowed in a branch at one time. To help further reduce the risk of transmission of COVID-19, we require that employees and members wear a face covering while in the branch.
Additional safety precautions in place include the use of sanitizer, gloves, acrylic shields, signage, physical distancing floor markers, and regularly scheduled cleaning and disinfecting of facilities.
Managing your money during stay-at-home restrictions
Even though branches are fully open, you can continue to complete most transactions conveniently online, by phone or at a CashPoints® ATM.
Also, if you're having trouble managing your finances due to the coronavirus pandemic, here are some resources that may help.