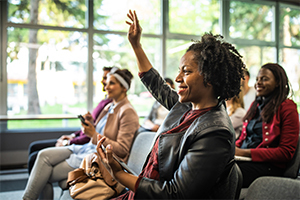 Eligible members working in local government and law enforcement will benefit from an increase in 2020 to three scholarship programs funded by LGFCU.
UNC School of Government Scholarship
This year, the funding for UNC School of Government Scholarships jumps from $50,000 to $100,000 in total funds to be distributed among qualifying applicants.
"LGFCU is thrilled to be able to give more financial aid toward local government employees eyeing professional development opportunities," said Jennifer Phelps, Vice President, Member and Volunteer Development. "Scholarships help cover the cost of tuition for conferences, classes and seminars offered by the School."
Qualified members should check out our scholarship application deadlines and find details about the courses offered at the School of Government website.
AOMP and LEEP Scholarships
Additionally, funds more than doubled for the Administrative Officers Management Program (AOMP) and Law Enforcement Executive Program (LEEP) scholarships. A total of $25,000 in scholarships is available for North Carolina local government law enforcement personnel who are members of LGFCU. 
Explore the N.C. State University's Public Safety Leadership Initiative (PSLI) website for details about courses offered. See more information about scholarship eligibility and deadlines.
Changes coming for student scholarship in 2021
Next year, the LGFCU Scholarship will increase individual scholarship awards from $1,000 to $5,000. The $5,000 scholarships will be awarded to 25 students to help pay for college, trade or graduate school expenses. Learn more about the LGFCU Scholarship application requirements.
LGFCU remains committed to bringing education into sharper focus with these important changes to its scholarship programs.