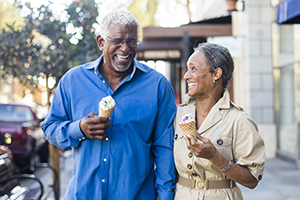 More plans, lower premiums and added benefits are just a few of the big changes Medicare Advantage and Medicare Part D plan recipients will see in 2019.
Some of the changes will affect all Medicare beneficiaries while others will impact only those who choose Medicare Advantage plans. Medicare aims to make the selection process easier with an updated, more illustrative handbook and improved online tools.
More plan choices 
There will be almost 600 new Medicare Advantage plans offered in 2019. Depending on your location, you might have access to 10 or more of these plans. Part D will also have more plan options. 
Medicare Advantage expands benefits
The Medicare Advantage plans will have additional wellness benefits not available through traditional Medicare. These benefits include vision and dental care, transportation to and from doctors' appointments, in-home assistance, and even home safety features such as bathroom grab bars.
Lower premium plans
Premiums for Medicare Advantage will average $28 per month. That's $1.81 cheaper than in 2018. Also, more 2019 Medicare Advantage plans will have zero premiums. The average premium for Medicare Part D prescription drug plans is decreasing by $1 per month. 
To help compare out-of-pocket costs and coverage options, use the improved Medicare "coverage wizard." The Medicare Plan Finder can help you estimate your total costs for premiums and the co-payments for your medications.
Out-of-pocket cost gap closed
The "donut hole," the coverage gap in which you must pay more out of pocket for your drugs, will close for brand-name drugs a year earlier than originally scheduled. The donut hole begins once you reach your Medicare Part D plan's initial coverage limit, which is $3,820 in 2019. It ends when you spend a total of $5,100 out of pocket in 2019. The donut hole will close for generic drugs in 2020.
Greater flexibility to switch plans
New regulations allow you to try a Medicare Advantage plan for up to three months. If you're not satisfied, you can switch to another Advantage plan or choose to enroll in an original Medicare plan. You'll have from January 1 to March 31, 2019 to drop and switch.
Learn more about the basics of Medicare or decide if Medicare Part D is right for you. For additional guidance on Medicare, contact your local Social Security office or Seniors' Health Insurance Information Program (SHIIP) with the N.C. Department of Insurance.