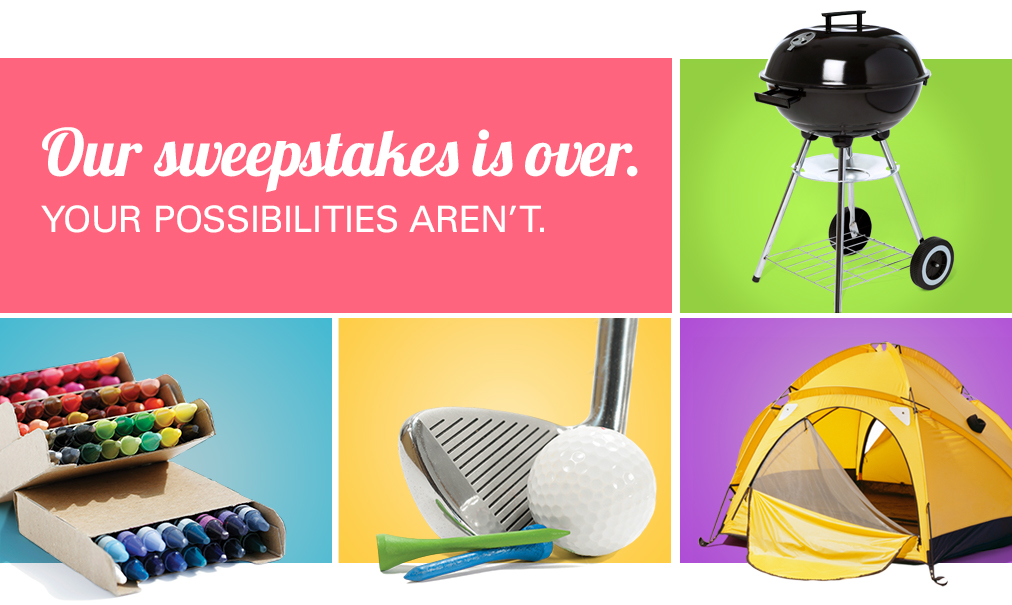 Our Visa® Credit Card Summer Sweepstakes is over. Thanks for participating!
Thank you to everyone who entered this year's sweepstakes. And remember, no matter the season, count on your LGFCU Visa Credit Card for all your shopping needs.
Congratulations to our $5,000 grand prize winners,
Daniel and Nikki F., from Goldsboro, NC!
In addition to Daniel and Nikki, here's a list of our lucky daily winners who each received a $100 gift card:
Lynne C. - Conover, NC
Henry M. - Vass, NC
Ronald C. - Whitsett, NC
Christa G. - Riegelwood, NC
Brittany B. - Jacksonville, NC
Kim C. - Yadkinville, NC
Kathlyn R. - Winton, NC
Donna C. - Tuckasegee, NC
Anita C. - Warsaw, NC
Sarah A. - Raleigh, NC
Linda P. - Bunn, NC
Phyllis B. - Canton, NC
Melissa T. - Roanoke Rapids, NC
Thomas H. - Kings Mountain, NC
Crystal R. - Vanceboro, NC
Susan R. - Gibson, NC
Justin N. - Asheville, NC
Nataly M. - Manteo, NC
Stephen J. - Mebane, NC
Cheryl M. - Graham, NC
Stephanie S. - Rutherfordton, NC
Kathy M. - Trinity, NC
April P. - Charlotte, NC
Ashley G. - Hayesville, NC
Jose F. - Roseboro, NC
Greta G. - Littleton, NC
Cathy J. - Hays, NC
Courtney B. - Durham, NC
James F. - Statesville, NC
Cathy Lee T. - Lillington, NC
Jennifer G. - Salisbury, NC
Tammy M. - Lumberton, NC
Tamara R. - Nashville, NC
Taylor L. - Williamson, NC
Billy A. - Smithfield, NC
Kelli P. - Marshville, NC
Regina P. - Granite Falls, NC
Rickey M. - Spruce Pine, NC
Teresa W. - Wadesboro, NC
Frankie D. - Pittsboro, NC
Craven H. - Garner, NC
Joshua L. - Walkertown, NC
Ashley E. - Fayetteville, NC
Abigail W. - Willard, NC
Alan L. - Roxboro, NC
Shenette D. - Rocky Mount, NC
Bonnie R. - Carthage, NC
Michael H. - Wilson, NC
Tracie J. - Valdese, NC
Paul C. - Hertford, NC
John C. - Bolivia, NC
Phyllis A. - Seagrove, NC
Landis C. - Sanford, NC
McCoy T. - Warrenton, NC
Tracey A. - Bryson City, NC
Jennifer G. - Leland, NC
Angela S. - Mount Airy, NC
OFFICIAL RULES
LOCAL GOVERNMENT FEDERAL CREDIT UNION 2018 LGFCU VISA® CREDIT CARD SUMMER SWEEPSTAKES
Entry in the 2018 LGFCU Visa Credit Card Sweepstakes is offered to eligible members 21 years of age or older, but void where prohibited or restricted by law. All applicable federal, state, and local laws and regulations apply. All materials submitted become the sole property of LGFCU and will not be returned. Return of any prize notification as undeliverable will result in disqualification, and an alternate winner may be selected. Acceptance of prize constitutes permission for LGFCU to use the winner's name and likeness for purposes of advertising and trade without further compensation, unless prohibited by law. LGFCU reserves the right to use any and all information related to the Sweepstakes, for marketing or any other purpose, unless prohibited by law.
HOW TO ENTER: Sweepstakes begins July 1, 2018 and ends August 31, 2018 (the "Sweepstakes Period"). If you are a Local Government Federal Credit Union (LGFCU) member who uses his/her LGFCU credit card for a transaction equal to or more than $10 at any fixed or online retail store during the Sweepstakes Period, your name will be automatically entered once for each qualifying transaction for a chance to win. Retail stores will be defined using VisaVue Merchant Category Codes. Examples of eligible retail stores include Wal-Mart, Target, Lowe's, Best Buy, Family Dollar, Barnes & Noble, PetSmart, etc.
NO PURCHASE NECESSARY TO ENTER OR WIN: You may also submit your entry in writing to "2018 Credit Card Sweepstakes", 3600 Wake Forest Rd., Raleigh, NC 27609.
ELIGIBILITY: Sweepstakes open to individuals who are members of LGFCU that use their credit cards for a transaction equal to or more than $10 at any fixed or online retail store during the Sweepstakes Period. Eligible persons must be legal residents of, and residing in, the state of North Carolina and be at least 21 years of age at the time of each eligible transaction. Directors and employees of LGFCU and their immediate family members and/or those living in the same household of each, as well as any persons involved in the design, administration or implementation of this Sweepstakes, are not eligible to participate or to win. LGFCU, through its CEO, retains the sole discretion to determine any issue of eligibility, and the CEO's decision will be final.
RANDOM DRAWING AND PRIZE: One grand prize winner will be awarded a check for $5,000. The grand prize winner will be selected by random drawing from all transaction entries after the conclusion of the Sweepstakes Period and notified no later than September 7, 2018. For each day of the sweepstakes, a daily winner will be drawn from all transaction entries occurring within 24 hours of each day for a total of 62 daily winners selected during the Sweepstakes Period. Each daily winner will receive a $100 Visa Prepaid Card. Entrants can win more than one daily prize in addition to the grand prize.
Entrants need not be present at the time of drawing to be eligible to win. Winners will be notified within five (5) business days of each drawing either by phone, email or U.S. mail, based on contact information provided by the member to LGFCU. Winners will be required to provide notice accepting the prize, either verbally or in writing, within five (5) business days following notification as a condition of receiving the prize. Failure to respond in accordance with these stipulations, or otherwise accept the prize, may result in forfeiture of the prize and an alternate winner may be selected via random drawing.
Prizes are non-transferable and cannot be redeemed or substituted for another prize, and LGFCU shall have the right to determine method and form of prize delivery. LGFCU's decisions concerning all matters related to the Sweepstakes shall be final. Winner acknowledges that the prize is taxable. Winner will receive an IRS 1099 tax form and may wish to seek advice from an independent tax advisor.
By accepting a prize, winner agrees to hold harmless and to indemnify LGFCU and their directors, agents, employees and assigns with regard to all claims, liabilities, and legal expenses related to any dispute that arises from a designated winner's participation, use or alleged misuse of the prize or acceptance of the prize. LGFCU is not responsible for any typographical or other error in the printing of this offer, administration of this promotion, or the announcement of the prize. LGFCU reserves the right to suspend or terminate the Sweepstakes in the event the administration, security, fairness, integrity, or proper conduct of the Sweepstakes is jeopardized. This promotion is governed by the laws of the state of North Carolina. This Sweepstakes is void in all states except North Carolina. LGFCU is not responsible for payment of any of the tax consequences related to the awarding of any prize as part of the Sweepstakes.
The Sweepstakes is not sponsored by, endorsed by, or administered by any of the eligible retail stores where transactions occur.
NOTICE OF WINNERS: For notice identifying the 2018 LGFCU Visa Credit Card Sweepstakes Grand Prize and Daily winners, visit www.lgfcu.org/sweepstakes September 10, 2018. Winners' names will be added after confirmation of prize acceptance. Winners will remain posted until October 5, 2018.
Sweepstakes sponsored by Local Government Federal Credit Union, 3600 Wake Forest Rd., Raleigh, NC 27609.