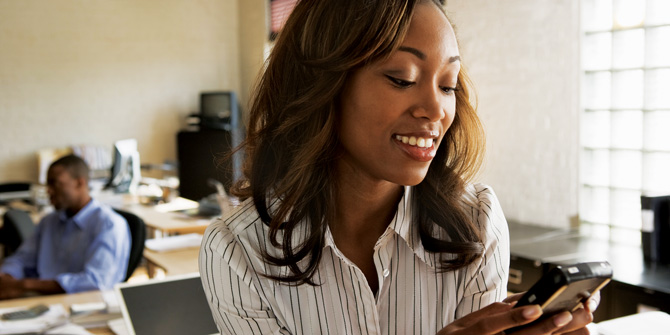 The ability to make purchases and critical financial decisions is now literally at our fingertips. The availability of web and mobile technology, coupled with our fast-paced lives, has led us to use our smartphones, tablets and computers to aid in more rapid research and to assist in decisions involving money. Are you ready to cross the digital divide and use technology to make informed decisions and transactions?
Increasing demand for technology
With approximately 156 million people in the United States owning smartphones, retail vendors and service providers are trying to keep up with the increasing demand for online purchasing options. Smartphones are being used for more than just talking with friends and family:
In 2013, 42% of homebuyers used the Internet as the first step in their home buying process.
According to the National Retail Federation, store-based retailers reported that in 2013, 77% of sales occurred using desktops, 9% using smartphones and 14% through tablets.
Retailers across most industries admit the trend to use smartphones is quickly growing as smartphone sales and use is outpacing computer sales and use. However, the reality is the types of devices used depend solely on personal preference.
Information at our fingertips
Internet and mobile apps make it easier to comparison shop for the best prices, without the added time and expense of traveling to multiple locations, or dealing with crowded parking lots, stores, or waiting rooms. Having the right tools means your search is no longer limited to a specific geographic territory when conducting business or making purchases.
Whether you want to purchase a car or a house, obtain a loan, or plan for retirement, consider the following tips to make your online purchasing experience more enjoyable.
Managing online decisions
For some, making big decisions or transactions online can feel intimidating. Before you start your online search or purchase, consider the steps you can take to help maximize your online experience and minimize the clutter that can flood your browser.
TIPS: Buying a car
Set a budget. Know how much you want to spend before you start shopping.
Create a list of the features you want in your car, whether you are buying new or used.
LGFCU has two online services to help you purchase a new car or find out the value of a new or used car. Visit Member Connect at lgfcu.org for step-by-step instructions.
Other websites, such as Edmunds.com, Cars.com or Auto.Yahoo.com offer information about product features and Manufacturer's Suggested Retail Price (MSRP) of the vehicles you are considering.
Visit websites of reputable and recognizable car dealerships to compare the prices and search for deals. Make sure you feel comfortable with the dealership and its reputation. Print out the cost estimates of the cars you are interested in to take to your dealership of choice. There are very few car purchasing websites that will close the deal online. Besides, it is to your advantage to test drive the vehicle you want to bring home.
TIPS: Buying a house
Start your search for a new house online. Real estate sites such as HomeFinder.com, Realtor.com and Zillow.com can help you narrow your new home search to a few select choices. This is especially beneficial if you plan to move to another state and will have limited time to view new homes.
Create a list of features you want in your new home, such as square feet, number of bedrooms, bathrooms and price range. Real estate companies with online search functions will ask you for the specific details you desire.
View photos of the inside and outside of the homes. Some real estate sites also provide narrated virtual tours of homes.
Ask questions about the properties through the real estate website, and learn if and how you can purchase the house through the Internet. It is recommended that you visit and inspect the home and neighborhood you consider. Only you know where you will feel most comfortable living.
TIPS: Searching for a loan
The Internet will identify seemingly hundreds of loan service providers that will enable you to apply for a loan online.
Visit LGFCU.org for current loan rates, as well as other lending sites to compare interest rates.
Before applying for a loan online, be sure to read the repayment terms and any fees or loan conditions.
After you apply online, loan officers will call you if they need more information.
Your loan can be finalized online in a very short time.
TIPS: Tracking retirement benefits
Estimate or apply for benefits when you are eligible, including retirement, disability or Medicare through the Social Security Administration at SSA.gov. Social Security staff will contact you directly if additional information is needed.
If you are retiring from the public sector, use the North Carolina Retirement Systems benefit estimator or download the necessary forms at MyNCRetirement.com to estimate or apply for your retirement benefits.
If you are retiring from the private sector, check with your employer to see if there is an online retirement process.
It doesn't get any easier than that!
Protecting yourself
While your computer, smartphone or tablet can simplify your life, it is wise to take precautions to safeguard your personal information.
Only use your secure personal computer or mobile device to shop online. Browsing history and even your login information may be accessible to strangers who use a public computer after you. Always log out of the sites you visited so others can't access your accounts. Secure any printed paperwork generated through your search and purchase process.
LGFCU.org is a good place to start your research and to address your financial-related questions. Enjoy your exploration!