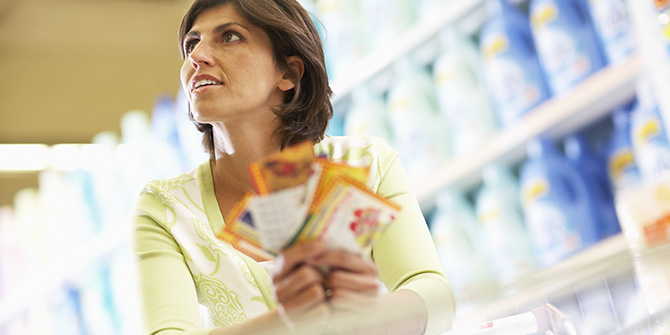 Admit it—you feel a rush of adrenaline when you find a good deal. Whether you're searching out the best prices by necessity or because you love the thrill of the hunt, knowing the best time of year to buy essentials will save you money and time, and better yet, you can look forward to that giddy feeling every time you shop.
January: The best month for suits and dainties
Start the year off right by shopping for a classic: a new suit. Remember that you get what you pay for, so splurging for a high-quality, timeless style is worth the money. You can also get a jumpstart on Valentine's Day with discounted lingerie, or take up a new hobby with deep discounts on crafting supplies.
February: The best month for furniture and grills
Retailers are clearing out their showrooms to make space for new furniture designs, so it's a good time to score a deal on last year's models. Shop Presidents' Day sales for bargains on housewares and linens. This is also a great time to shop for a hosiery or a barbecue grill.
March: The best month for electronics and home improvements
At the beginning of the year, all the biggest electronics companies show off their latest models at the International Consumer Electronics Show. By March, you'll see these models hit the shelves. Retailers need to make room for the new merchandise, so shop now to walk away with a great deal. This is also the month to shop for do-it-yourself home improvement equipment.
April: The best month for rain gear and thrift shops
There are only a few short weeks of April showers before the May flowers move in, so this month, retailers lure buyers with deeply discounted rain gear. Rainy April days also inspire spring-cleaning, so check out thrift shops for bargain prices on clothes, furniture and household appliances.
May: The best month for athletic gear and luggage
As the warm weather increases, so does enthusiasm for exercise. Luckily, retailers are looking to clear out their last-season inventory at a discount in May. Look for discounts on luggage and outdoor furniture as well.
June: The best month for dishware—and fishware
Welcome to wedding season! The beginning of summer is the busiest time for bridal showers and weddings. Retailers answer the call of registries throughout the country by offering fine china and everyday dishware at a discount. This is also the time to shop for camping and fishing equipment.
July: The best month to shop the sales, and buy a fur
Storewide Fourth of July sales mean discounts in just about every department, but look for especially good prices on summer fashions, along with buy-one, get-one deals on candlesticks and other housewares remaining from last month's wedding specials. July is also the month to buy furs.
August: The time to buy swimwear and toys
Summer is winding down and retailers are anxious to promote the back-to-school sales. August is prime time to buy a new bathing suit and swim shoes. It's up to you whether you end the season in style, or save them for next year. Kids will be happy to know that August is also a great month to find discounts on toys of all kinds.
September: The best month for plants, computers and appliances
Nurseries need to rehome their unsold summer plants, so be careful to choose trees and shrubs that can thrive in the cooler temperatures. With Back to School sales and tax-free weekends, it's also a great month to shop for computers and appliances.
October: The best month to outfit the whole family
Skinny, boot cut, flare leg or carpenter, October is the time to get the best deals on denim. Shop Columbus Day sales for the best prices on fall fashions. This is also the month to shop for infant and baby products, and new flooring.
November: The best month for sleepwear and drapes
Who doesn't love cozy PJs when the weather turns cold? Find great deals on packaged pajama sets in November. Look for bargains on window treatments, and watch for china and serving pieces to go on sale in advance of Thanksgiving. And don't forget Black Friday, where, with careful planning, you can snag some of the best deals of the year.
December: The best month to buy a car and holiday trappings
With consumers focused on the holidays, car dealerships tend to be slow in December. But dealers are anxious to clear out their lots before the end of the year, so it's a great month to shop for a new car. Once the holidays are done, shop the sales for half-price holiday cards, wrapping paper and decorations to get a jump-start on next year.
If you plan carefully and resist the urge to make impulse purchases, you can easily shop while the sales are hot throughout the year, and never buy anything at full price. For extra motivation, keep track of how much your smart shopping saves you over the course of a year. Happy Shopping!