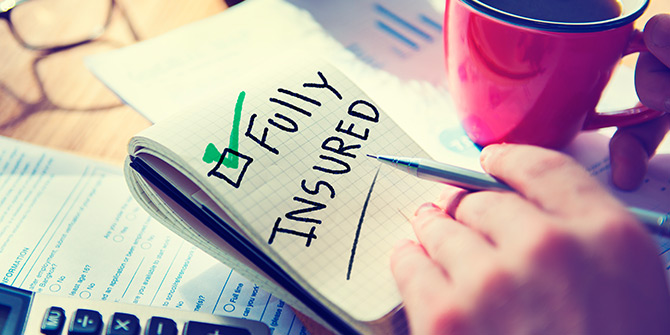 Most of us are diligent about having the oil in our cars changed regularly, and we remember to get routine physicals and dental cleanings. But when was your last insurance checkup? Insurance coverage can be easy to neglect — until something happens to remind you of the important protection it provides. If you can't remember the last time you reviewed your insurance coverage, it's time to schedule a checkup to determine if you need to make any changes.
Car insurance 
Auto insurance has three parts — liability, collision and comprehensive. Liability is the most important. The minimum liability coverage amounts required in North Carolina are:
$30,000 for bodily injury per person
$60,000 for bodily injury per accident
$25,000 for property damage per accident
These amounts won't be enough if you are involved in a serious accident so consider buying more. To save on your premiums, try raising your deductibles rather than reducing coverage.
Homeowners insurance 
While any settlement is helpful if disaster strikes, you'll be much better off if your policy provides replacement cost coverage rather than actual cash value. Due to constantly rising costs, the cost to replace your current home today is likely more than the purchase price. Cover your expensive valuables with separate riders. You may even need to add a business rider if you maintain an office in your home.
Life insurance
Generally, the more dependents you have, the more life insurance you need. Is your current coverage enough to cover your family's needs in the event of your death? Or if your children are grown, you may realize you no longer need to carry as much coverage. Life events like marriage, caretaking for an elderly parent, a home purchase, promotions or new employment are also reasons to re-examine your life insurance needs. Replacing your earnings or providing for others will change with every step you take in life.
Take a minute now to think about the insurance coverage you'll need later. LGFCU members can get a free insurance quote by calling 888.732.8562. 
The advice provided is for informational purposes only. For additional guidance, contact an Insurance Representative. Auto and Homeowners Insurance is underwritten by The Members Insurance Company.  Life Insurance is underwritten by SECU Life Insurance Company.   This insurance is not a deposit and is not federally insured, or guaranteed by your Credit Union. Insurance representatives are licensed in N.C. only.