As a Credit Union committed to working in your best interest, we embrace a set of Core Values that guide us when providing services to help you achieve your financial goals.
As an LGFCU member, you know we strive to improve the lives of our members in a variety of ways. In order to provide you with the best member service possible, we encourage staff to embrace the following four Core Values.
Act with Integrity
Trust and honesty are essential to building strong member relationships, and a strong business, which is why we're transparent about the Credit Union's operations. We do things like post our monthly financial information and yearly audits so you stay informed about how the Credit Union is doing. We also keep you informed on social media, LGFCU.org, through our quarterly Aim magazine, by email and more, about important information related to your finances.
Never Quit Learning
What is good for you and is good for the community, is good for the Credit Union. We encourage self-empowerment through continued education and personal development.
In support of a lifetime of learning, we partner with universities such as NC State University's Public Safety Leadership Initiative and the UNC-School of Government, to provide continuing education specific to our core members — local government employees. As you, our members, grow and learn, you help North Carolina communities become stronger and serve them better.
We also encourage our staff to attend professional training to stay current on the Credit Union's operational needs. Whether it's learning new ways to keep your accounts secure or better ways to share information with you, you can be confident that the people who work for you never stop learning.
Pursue and Celebrate Diversity
We serve a diverse membership, so we all benefit from the valuable talents and unique perspectives of a diverse and inclusive Credit Union staff as well. Improving lives requires an understanding of our members' unique challenges and needs, and innovation to meet them. LGFCU is successful because we respect and encourage individual differences and perspectives.
Make a Positive Impact
To help you get and stay on a sturdy financial footing, we have to make sure the communities you live in are strong enough to support you, too. That's why we offer more than just credit union services. You'll see us volunteering in communities across North Carolina, supporting economic development projects, pursuing environmentally friendly endeavors and much more. Check out the many ways LGFCU gives back statewide through initiatives near you.
Achieving Core Excellence (ACE) Award
Each month, our leadership team recognizes one or more staff members to be presented with the ACE Award. ACE Award recipients live the Credit Union's Core Values and are typically a dedicated advocate of one specific Core Value.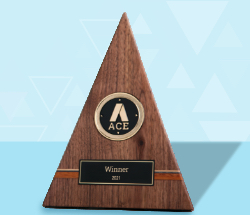 Gerald L., Systems Support Manager and Alicia D., VP, Business Analytics
July 2021 ACE Award winners
Gerald L. and Alicia D. are recognized for Making a Positive Impact on Credit Union staff to help us better serve members.
Past ACE Award Recipients
June 2021 – Krissy D., Membership Development Officer
May 2021 – Kathleen S., Communication Manager and Bryan S., VP, Legal and Compliance
April 2021 – Kristina L., Vice President, Human Resources
March 2021 – Alan H., Audio-Video Manager
February 2021 – Doug S., Enterprise Application Manager
January 2021 – Jazmine K., Membership Development Manager
December 2020 – Leslie E., Organizational Strategy Officer
November 2020 – Cliff C., Compensation and Benefits Analyst
October 2020 – Courtney V., Senior Enterprise Application Analyst
September 2020 – Jennifer G., VP, Risk and Compliance
August 2020 – Page D., Human Resources Specialist
July 2020 – Jonathan W., VP, Loan Analytics
June 2020 – Cecilia T., Senior Internal Auditor
May 2020 – Tarrell C., Civic Ambassador
April 2020 – Darrell S., Senior System Support Specialist
March 2020 – Karon F., Senior Executive Assistant
February 2020 – Gene N., Facilities Manager